"The Heartbreak Series: A First Look" is here!
Long-awaited by fans and friends, the senior project of theatre arts major Kat Delaney titled "The Heartbreak Series" is finally here. The 37-minute film garnered over 100 views since its release on YouTube on April 11. A culmination of Delaney's own experiences of heartbreak and the countless stories she has recorded over the years, this first look at "The Heartbreak Series" follows 10 young adults navigating love and loss.
Written by Delaney and directed by Westmont graduate Izzy Esber, "The Heartbreak Series" features Alex Gabriel as Violet, Rachel Herriges as Sophie, Miah Williams as Nico, Keilah Smith as Roxy, Luke Spicer as Reese, Landon Moir as Devin, Ford Sachsenmaier as Mylo, Joey Cochran as Easton, Josephine McLaughlin as Autumn, and Emi Brewer as June.
The film opens with the mysterious popping noises of a projector, which becomes an oft-used motif, and images of Delaney moving through a dark room as scenes depicting sparkling galactic colors and the Kavanaugh trial, among other things, are projected onto a dark wall behind her.
Delaney boldly begins the first-person narration, professing, "I never want to miss a chance to say 'I love you.'" She goes on to state how she wants to be remembered for her "loud love." The montage concludes dramatically: "This is 'The Heartbreak Series.'"
What follows are the ins and outs of the characters' romantic musings and reflections on everything, from their parents' infidelity to their own. In familiar scenes of friends relaying romantic adventures, dancing alone in the kitchen, wandering aimlessly at parties, and mustering the courage to make eye contact, "The Heartbreak Series" explores jealousy, vulnerability, fidelity, what it means to experience love as a young person, and what it means to support friends as they do the same.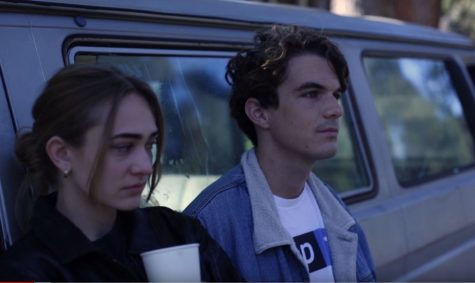 Delaney's poignant one-liners may resonate with younger audiences, especially as they claim, "The truth is that, if I leave her, then I'm alone, really alone," and "Don't act like you don't know. I feel like that hurts more, to be honest."
Esber uses abrupt cuts between frames to convey characters' inner monologues as they remember a first date during a breakup.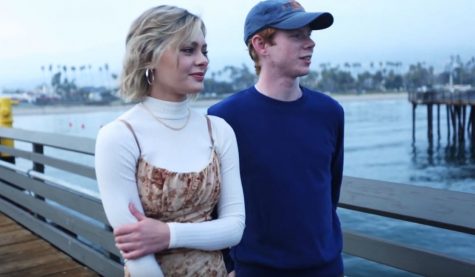 Esber's style reflects the drama of love and heartbreak and is brought full circle at the end of the film, when Delaney returns to the screen to walk wistfully through a field of flowers, reminiscing, "I fell in love with him for his humanity."
Ultimately, "The Heartbreak Series" celebrates love's many iterations in friendships and romances, and the importance of "loudly" loving those around us. Through honest dialogue and a clear, consistent direction, the short film can connect to all of those who have loved, lost, and learned.