Biology professor describes how the COVID-19 vaccines work
After a year of hardships during the COVID-19 pandemic, long-awaited vaccines have finally been created and are being distributed all over the world. According to the Centers for Disease Control and Prevention (CDC), over 75 million people out of the 330 million population of the United States are fully vaccinated, meaning that almost a quarter of the U.S. population is fully vaccinated. While the number of weekly COVID-19 cases in the U.S. has stagnated, it is important to know exactly what the vaccine does.
In the U.S., there are currently three main vaccines distributed to the general population: the Pfizer-BioNTech vaccine, the Moderna vaccine, and the Johnson & Johnson Janssen vaccine. However, not every vaccine works exactly the same way.
Westmont biology professor Dr. Steve Julio, specialist in mechanisms of infectious diseases, divides the vaccines into two categories based on how they work.
"The Pfizer and Moderna vaccines are mRNA vaccines, and work by a piece of nucleic acid of the virus that encodes the spike protein, which allows the virus to stick to cells, encapsulated in basically a ball of fat getting injected into your arm. It is taken up by immune cells and generates a response against that particular part of the virus."
The Johnson & Johnson vaccine, by contrast, was designed to work as a more traditional vaccine but altered so as to not inject a person with a dead version of the COVID-19 virus. "It is similar to the mRNA vaccine, but the way in which the nucleic acid is encapsulated [is different]. It is not a bag of fat, but actually another virus that has been disabled, called an adenovirus. The nucleic acid for the spike protein, now in another virus that is completely incapable of causing disease, is what your immune system picks up and responds to in much the same way."
As for the recent blood clots corrolated with the Johnson & Johnson vaccine, Dr. Julio shared this observation: "It is important to keep in mind that no causal link has been established (yet) between the J&J vaccine and the rare blood clotting condition; this is exactly what the 'pause' in distribution is meant to ascertain. However, it will be statistically difficult to do so, with so few cases, six, among nearly 20 million doses given. Six cases among 20 million is not much different than what is expected to be seen in the general population"
It is important to keep in mind when observing the distribution of the vaccines that, by all previous predictions about the vaccines, they should not have been developed until the later months of this year and with a lower percentage of efficacy. "We have gotten really lucky; we are seeing efficacies of 70 to 90% range. Historically, that is astronomically good … they were hoping for something around 50% to 60% [for the COVID-19 vaccine] and they would have ran with it," said Dr. Julio.
As for the timeline for vaccine distribution, forecasts in the early months of the pandemic showed a hope to have an effective vaccine by the fall of 2021. Instead, the world was ahead of that projection by over half a year and with better numbers than we could have ever dreamed. It's also important to remember that the vaccine is not a short-term solution. The ultimate goal of the vaccine is to reach a "herd immunity," projected to be at least 70% of the population, according to Johns Hopkins University. Johns Hopkins defines herd immunity as "when most of a population is immune to an infectious disease … [and] provides indirect protection to those who are not immune to the disease."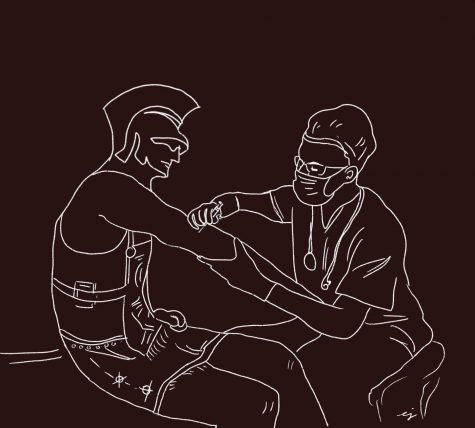 The distribution of the vaccine was a point of contention in the first months of vaccine distribution due to the implemented tiered system. In California, there are currently five tiers for vaccine application. The first, named Phase 1A, focused on healthcare workers and long-term care residents. The second, named Phase 1B, focused on people with a high chance of exposure and those 65 years of age or older. Such sector populations included emergency services, education and childcare, and agriculture and food, among others. Tier 3 focused on individuals age 16 or older with certain significant high-risk qualifications, including those with medical conditions, disabilities, illnesses, etc. Tier 4 intended at individuals aged 50 and older. Tier 5 is the last and most inclusive tier, aimed at distributing vaccines to every Californian 16 or older starting April 15.
One of the biggest questions going forward with vaccinations is whether receiving the vaccine should be mandatory. The number of colleges and universities that will require students to be fully vaccinated is increasing; some examples are Duke University, the University of Notre Dame and Brown University, among other big-name schools.
Finally, the idea of the COVID-19 vaccine "passport" seems to be gaining traction. When a person receives a vaccine, he or she receives a COVID-19 Vaccination Record Card with the date or dates when the vaccine was administered, what brand it was, the identification number of the vaccine, and the location it was administered. This policy raises the ethical question of whether a vaccine card should be required as we slowly return to normalcy. While no solid answer has been given, it seems prudent to keep your card safe and to keep a photo of it to have on hand.
While there have been some worries about receiving the vaccine, Dr. Julio had some final words to share. "Is any vaccine free of risk? No. So what do you do? You look at the data, and if you look at this particular vaccine, it has been administered to hundreds of millions of people with very few adverse reactions. Collectively, it is entirely safe and effective, and I would not hesitate to vaccinate myself or my family."
About the Contributors
Ella Jennings, Graphics Editor
Ella Jennings is a sophomore Art and Psychology double major who adores espresso and spending time with friends and dogs.