The mementos of Westmont
A 25-year-old pizza box, old notebooks, jars of sticky notes, spices, and a stuffed cat; these are just a few of the objects passed down through the years between Resident Assistants (RAs) at Westmont. Each year during an RA event called "Pass the Torch," the current RAs of each dorm building initiate and "pass the torch" to the incoming RAs who will take their place the following year. The "Pass the Torch" event includes various activities, challenges and advice-giving. The event also includes passing down mementos from specific sections.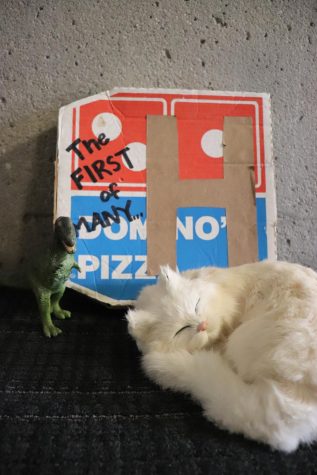 For the current Clark RAs, "Pass the Torch" did not happen for them last spring due to the pandemic, and the majority of Clark RAs were not aware of the mementos until they attended a RA staff meeting a couple of weeks ago. "I was kind of sad that I didn't find out about the mementos earlier, and that I wasn't able to spend more time with my item this year," stated Annika Britton, the RA of Clark P. Clark P's memento is a notebook filled with advice, poems and letters from past RAs and residents from Clark P. The earliest note is dated 2014. "Even though I didn't receive the notebook until it was in participation of giving it to next year's staff, I was excited to be a part of the history of Clark," explained Britton.
Although Britton does not have a specific favorite part of the notebook, she is intrigued by "the general vibe it gives off, and how Clark P is a special place. I thought that was sweet." 
When contributing her own note, Britton took inspiration from past letters. "Some of the other ones had poems with different words that started with the letter P, like Clark P is for party, personality, so I did a similar thing like that, and how P is for pandemic and I put six advice points and talked about how this year has been really hard …  I want to be real for future students who are looking back and may be going through similar struggles. I also added some fun doodles," Britton explained. 
A doodle of a dragon-like character titled "Trogdor the Burninator" can also be found on the inside of a Domino's pizza box inscribed with names, years and even a note describing the Tea Fire. The earliest date found on the pizza box is 1995-96, and the top of the box has white duck tape in the shape of an H to symbolize Clark H.
"I'm honestly surprised that nobody just picks this [box] up and throws it away, and that it has lasted this long," stated Luke Morse, the current RA of Clark H. Due to the absence and delay of the "Pass the Torch" event, Morse also expressed regret at not knowing about the box sooner. "I was kind of bummed that I spent this whole year without knowing about it, and then found out about all these names written on it, and it's really just a great piece of history … taking a piece of trash, and turning it into history is really neat …  and the aesthetic of the 90s Domino['s] logo is just super classic," stated Morse.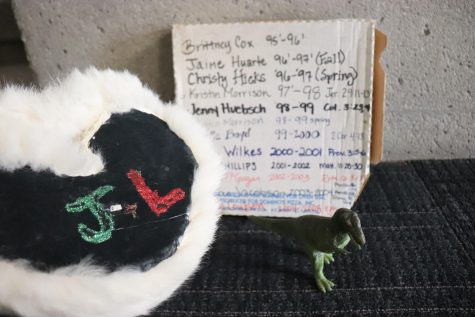 The 25-year-old pizza box has been fairly well preserved over time, and also contains a note describing how a previous RA took the box home with them for a while during the Tea Fire because he did not want the box to get burned up when Clark was on fire. "This box has been through a lot," Morse said.
Down on lower campus, GLC RAs are also participating in the "Pass the Torch Event." The GLC North first floor RA, Simon Janzen recently passed on their torch, an ever-growing bag of spices, to next year's RA, Cade Petrie. Janzen explained that residents of the North's first floor usually use the spices as a communal supply. However, due to the pandemic, residents have not been able to use the spices this year. Petrie expressed excitement at adding to the supply and for allowing residents to use it again.
Two notebooks representing the third and fourth floor can also be found in Emerson. "I would describe it as a patchwork quilt of pages," stated Rachel Pace, the current RA of Emerson's third floor. "You could just see how everyone brought their own little flair to the journal, each page was in a different marker, and everybody signed it differently. Some people put different backgrounds, some people put in little pockets with notes inside … it was just sweet to see how each person's personality came out in each of the things," Pace stated. Pace described how previous notes found in the journal included advice and experiences. One past RA even wrote how to survive being an Emerson RA in the format of a recipe.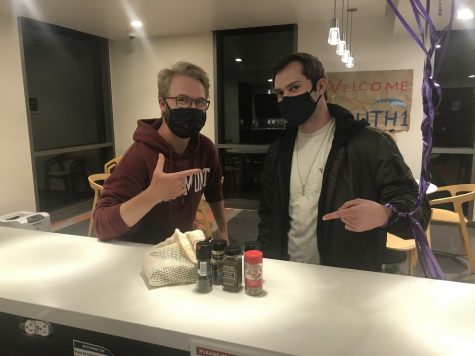 Pace's favorite part of the journal was from one previous RA, "who, you could tell, had been adding things to the journal throughout the year, and really putting time into it … I thought it was really sweet that there was this object out there that I had never known about and how people had taken the time to keep this memento and keep this sort of legacy alive." Both Pace and Britton have since passed on the journals to next year's incoming RAs.
"I would want future RAs to know that there is this symbol of our section … because of the pandemic, I don't even know if the RA last year knew about it," stated Morse. For students who want to know more about this part of Westmont's history, asking the RAs or Resident Directors is an excellent start.