"My Story (and how it's all about you)": A senior project by Tyler Lynch
Tyler Lynch opened up to the entire Westmont Community about his experience discovering his sexuality through his theatre senior project, "My Story (and how it's all about you)." The story follows him in high school coming out as gay to his closest friend and the aftermath.
He first started working on this piece around his sophomore year and originally planned on putting it into the Fringe Festival in 2020, but he decided to withdraw due to the pandemic and wait for his next opportunity to share the piece.
Lynch's writing process wasn't easy. "I had to go back and think of all the details I felt were important for telling the story, and that meant almost reliving those memories and feelings and struggling with them again, but this time, I had greater context and was able to learn new things from those experiences."
In order to pursue the project, he had to trust his cast and crew; luckily for him, he brought in a cast and crew that were willing to talk through everything and learn from one another.
Lynch cast Ben Thomas, a Westmont alumnus who double majored in theatre arts and computer science, to play Tyler's high school version of himself. Thomas was excited to reconnect with the theatre community after getting rushed off campus due to the pandemic.
Having a majority cishet — cisgendered heterosexual — cast, the whole crew recognized the importance of reflecting on the topic of cishet actors playing queer characters. The cast and crew took time outside of their work to reflect on the struggles the LGBTQIA+ community faces and how those experiences differ from heterosexual individuals. 
Thomas recognized the importance of having LGBTQIA+ roles played by actors who identify in the community. "I had to approach this role with humility and understanding [because] I do not, and cannot, relate entirely to this character's pain," Thomas said. "The differentiation we need to make between my character's experience and my own is that there was a fundamental rejection of his personal and permanent identity, and that is not something I had to endure in my own encounters with loss and rejection."
Thomas took time to talk with Lynch and other crew members to process what it means to be a cishet actor playing a gay character. He emphasized internalizing more about Lynch and his personal struggles as someone in the LGBTQIA+ community. Learning more about Lynch's experiences and emotions enabled Thomas to take on the role in a respectful manner. 
Lynch also recognized that, in the twenty-first century, queer representation in the media has become increasingly important. Lynch explained how showing stories of members in the community humanizes their experiences. "We don't have much representation out in the world and especially in ways that actually depict the real-life struggles that many of us face. I hope that this story can show those who don't identify as a member of the LGBT community that we are just people, too, and that we can all get along."
Lynch continued to explain how he wanted to show the "real-life struggles" through his coming out story. He believes that the media often only portrays the positive coming out stories, but, in reality, many queer individuals receive backlash after coming out. Lynch's story of heartbreak shows how coming out stories aren't always perfect.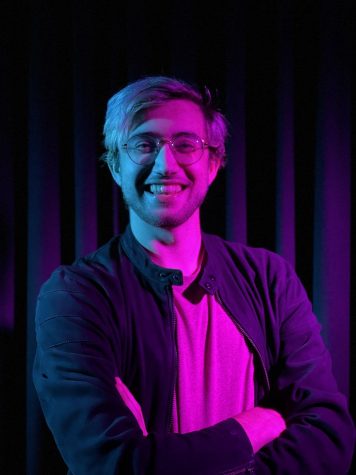 Lynch hopes that both supporters and non-supporters will be able to better understand queer experiences after watching his show, and he specifically hopes that non-supporters can see what happens "when an integral part of who we are is pushed against … [we] are humans who are just as capable of being hurt as they are."
The cast also reflected on the LGBTQIA+ space on Westmont's campus. Lynch expressed how heteronormativity on campus bothers him and how he hopes that, one day, people will recognize the existence of queer individuals like himself. Although he has found community in the non-official student group Gradient, he expressed how he still faces a campus where individuals' identities, like his own, are often pushed to the side. "I hope that this show will promote more conversation on the LGBT community and further down create more of a space for us here."
Thomas also recognized the heteronormativity in Westmont's campus and believes that shows like Lynch's are important to help grow the community as a whole. "Telling stories like Tyler's is particularly important in spaces like Westmont because it forces us to recognize some of our wrongdoings as a community and as individuals and demands that we do better," Thomas said. "My personal hope is that we come to recognize stories like these as a gift, as they reveal to us ways we can grow our love for each other and begin to heal our communities." 
Although it is just one out of the stories of many queer individuals, Lynch's narrative gives the perspective of real struggles that the LGBTQIA+ community faces. The storybook motif Lynch implemented reflects how he views his own life and the emotions he has faced in different chapters. 
"[From the show] I hope members of the LGBT community, especially those who think they're alone, can take away just how important a sense of community and having the ability to reach out to others is. And for those who are still struggling with their identity or hide it from the world, I hope that they know that there are people they can reach out to who will help them through this." Lynch said. 
"My Story (and how it's all about you)" premieres this Saturday, April 17, at 7:00 p.m. PST and will remain available after the premiere. The show can be found at https://www.westmont.edu/senior-performance