Students organize a discussion of gender and sexuality at Westmont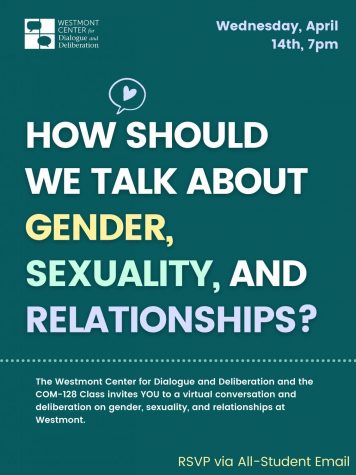 On April 14, the Westmont Center for Dialogue and Deliberation and the Facilitating Dialogue communications research class hosted a virtual event titled "How Should We Talk About Gender, Sexuality, and Relationships?" Over 80 students, faculty, and alumni joined the event.
"We wanted [the event] to be a holistic representation of the community at Westmont," stated Anastasia Heaton, a facilitator and one of four main event organizers.
Earlier that day, event organizers sent participants the timeline: a document containing seven main events involving the subject of gender and sexuality at Westmont. The timeline started with a revision of the code of conduct for curfew hours that applied to women, but not men, in 1971, and ending with the 2020 creation of Nexus, a Westmont endorsed program that explores the intersection of faith and sexuality.
All four event organizers — Anastasia Heaton, Kyle Mayl, Emma Sachsenmaier and Hannah Webster — along with Dr. Rachel Winslow, alumni Kayla Peterson and Dr. Deborah Dunn, held interviews with around 40 people to see what they wanted out of the conversation. According to Heaton, the team "did a ton of research on Westmont's history and cultural context … and then we just sat down and thought, 'How can we start categorizing this in a way that's approachable for people at the table, has really concrete options, and doesn't fall into the binary that we're really familiarized with already?'"
During the deliberation event, the leaders sent participants to breakout rooms designed to be a safe space. "Everyone does feel vulnerable sitting down, and we knew we weren't going to be able to eliminate that; we didn't want someone to feel threatened or intimidated, especially in the power imbalance that might present by having a faculty member join the conversation," Heaton stated.    
Dr. Cheri Larsen Hoeckley, one of the event participants, thought that "the students did a remarkable job of bringing a wide range of people together around a set of topics that we often have trouble talking about."  
Larsen Hoeckley described how the conversation on sexuality and gender has changed during her time at Westmont, particularly in regards to students who identify as part of the LGBTQ+ community. "When I came to Westmont, conversations were about 'Christians' or about 'gay people.' The groups never seemed to overlap. We saw in the dialogue and deliberation that we are now acknowledging that there are people who identify simultaneously as queer or gay and as Christian. And we acknowledge that some of our students embody both of those identities."
Dr. Larsen Hoeckley also stated how she "would like to see us get to a level of common understanding where we can have conversations about the various topics that were melded together in this conversation. Otherwise, I fear that sometimes we let 'sexuality' stand in unclearly for LGBTQ+ identity and concerns."
One anonymous first-year student, who identifies as bisexual and participated in the deliberation event, stated, "Although the conversation was super beneficial, I thought that the facilitators asking for 'our stake' in the situation was essentially forcing LGBTQIA+ people to come out during the [event]. In my opinion, there were only three potential stakes: either someone would be queer, an ally or a non-supporter … we were essentially forced to come out and that was harmful."
The student also described the strong need to have this conversation at Westmont. "In the past year, the biggest thing I've heard from talking to other students is that 'our voices have been silenced' and — from queer individuals — 'we feel unsafe.' Having conversations about gender and sexuality on campus enables our voices to be heard."
Heaton seconded this statement, stating, "There's a big culture of silence around this topic at Westmont. Silence is not a good way to move forward, and it's not a good way for students or anybody to feel heard or supported." 
"I hope, at least, that [creating this event] and this conversation breaks a lot of the stigma and the silence surrounding sexuality at Westmont. There's a lot of fear going into this conversation, but these conversations can happen on campus," Heaton continued. Participants and creators of this event have all demonstrated how just participating in this conversation can help to break the taboo of the intersection of gender and sexuality and the Westmont community.