Dr. Daniel Gee: the new choir professor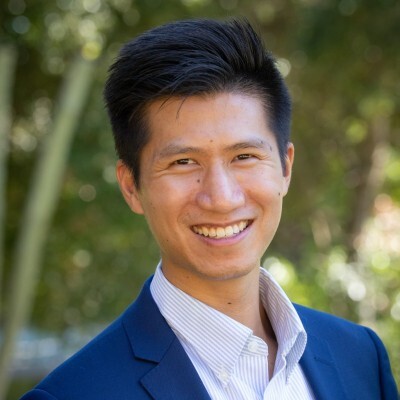 This year Dr. Daniel Gee joined the Music Department as the College Choir and Chamber Singers' conductor.
Dr. Gee's conducting experience traces all the way back to when he was a student at Westmont. "I was Assistant Conductor for the Westmont Orchestra, mentored by Dr. Shasberger, and served as principal cellist."
Until graduate school at the University of Southern California (USC), he focused on conducting orchestras. He later decided to switch to choral conducting and, although it was hard, the faculty at USC aided him on his journey. Dr. Gee had opportunities to continue his choral conducting at Evergreen Baptist Church of the San Gabriel Valley, at the Choral Arts Initiative, and with a professional choir in Orange County.  Dr. Gee said, "Along with my continued work with orchestras, I am grateful for this wide range of conducting experiences that has led up to my time arriving at Westmont to lead the College Choir and Chamber Singers."
Dr. Gee said he has been grateful for the past year. Regardless of COVID-19, the choir has been able to rehearse in person. Many other choirs have not had this opportunity, leaving them to Zoom rehearsals. To maintain a safe in-person rehearsal environment, students remained masked and distanced. Dr. Gee also split the choir into two Fixed Interchangeable Modular Ensembles, or "FIME" — singing groups that rehearsed at different times and then came together for performances. The performances always took place at outdoor locations, including the track, the GLC amphitheater and Kerrwood Hall. 
Dr. Gee took the challenges from COVID-19 as an opportunity to help grow and develop skills for the students. He took this time to focus on "growing in listening across the ensemble, as well as being mindful of tension in the vocal instrument and taking intentional steps to mitigate this."
Dr. Gee expressed the most gratitude for the little moments this year. Whether students remembered their love for singing or finishing  the final run of a piece, he found all those moments quite beautiful, as "these moments would definitely keep me going in the middle of the year's challenges."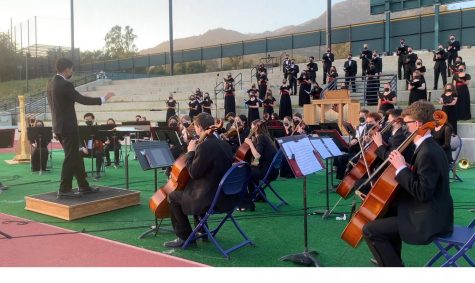 He has felt that, regardless of COVID-19, the choirs have made the best of the year. "I'm delighted that the College Choir was still able to make notable appearances in our annual Christmas Festival and President's Breakfast, not to mention the music department's virtual concert series throughout the year. The Chamber Singers, as a smaller 'gigging' group, made some memorable appearances at the Christmas Festival, a scholarship luncheon, chapel, and even in person outside faculty homes for some Christmas caroling!" 
Dr. Gee looks forward to having audiences again, as well as going on tours. He sees a bright future for the college choir and chamber singers. "I also hope that we can continue to grow in our musicianship and as a community together … I am grateful to say that, even in this year, we were able to do so in significant ways."
Dr. Gee expressed overall gratitude for his past year with the Westmont community. "Finally, and most importantly, the singers and department have warmly welcomed me, adjusted to challenges, and given their best no matter the challenges. I certainly will look back on this year as one of the most memorable ways to begin my collegiate teaching career!"