"The Lighthouse" thunders
It is a difficult task to critique a film like Robert Eggers' "The Lighthouse," because it is a movie-watching experience that defies traditional perspectives on how a movie ought to be viewed. There is no set storyline from point A to point B, and without a trustworthy narrative voice of the film, the experience is certainly disturbing and disorientating. But make no mistake from the description above –– "The Lighthouse" is one of the best films of this year.
The tale of "The Lighthouse" sounds almost as though it could be one of the various seafaring tales like "Moby Dick" or "The Rhyme of the Ancient Mariner": two men arrive on a lonely and miserable island to serve out their shift as lighthouse attendants, and soon begin to grow wary of one another as the mysteries of both man and horrific nature unfold. From a visual storytelling perspective, "The Lighthouse" forgoes the in-color and letterbox aspect ratio norm of most contemporary films, and instead focuses on delivering an experience in a cramped black and white square canvas. The limited aspect ratio and desaturated image may seem like a gimmick, but both of these aspects work hand in hand to produce some beautifully framed shots where dark shadows become almost a part of the physical locations. In many ways, the cinematography of "The Lighthouse" is a meta-narrative struggle of voracious shadow versus a herecletian fire of light, and their dance plays out on the faces of the two sailors.
In their struggle to stay alive and maintain their sanity, the two sailors, Thomas and Wenslow (played by Willem Dafoe and Robert Pattinson, respectively), have to contend with the horrors of the violent sea around them and the storms that rage in both of their tortured souls. Despite the relatively little dialogue in the film, both Dafoe and Pattinson excellently portray these two men, giving them life with a truly physical set of performances. Dafoe shines sinisterly as the old grizzled sea captain Thomas –– despite his small amount of lines, the actor's delivery and commitment create a clear portrait of a rough-and-tough sea dog. Pattinson's portrayal of Wenslow also serves to give an excellent counterpoint to Dafoe's Thomas, extensively using his eyes to almost serve as words themselves, conveying the intrigue and horror that unwind as the film goes on.
Despite its minimal use, the musical score of "The Lighthouse" also deserves praise for sounding as though it were a part of the bleak and maddened world that the film takes place in. A constant use of a brass ensemble, sounding as though they were long-lost ships in the night, conveys the existential dread that encroaches both Thomas and Wenslow as their month-long shift on the island drags on and on.
The film itself features some incredibly disturbing and violent imagery, so viewers should be warned if they are sensitive to the inclusion of such in a movie.
However, if someone is able to tolerate such heightened features, their experience of viewing "The Lighthouse" will be, if nothing else, unforgettable.
About the Writer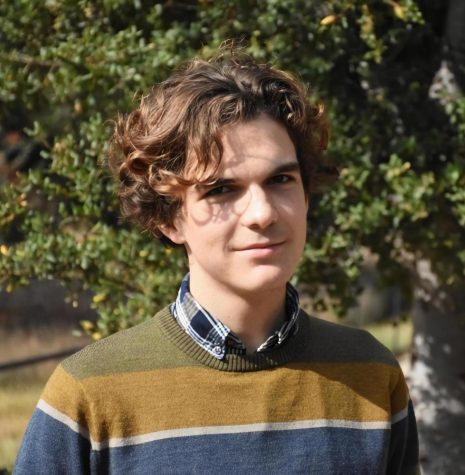 Luke Spicer, Arts & Entertainment Editor
Luke Spicer is an English-Theatre Major who is more than happy to take time out of his day to try and get you to listen to Radiohead and watch "Twin Peaks."