New Public Art Exhibit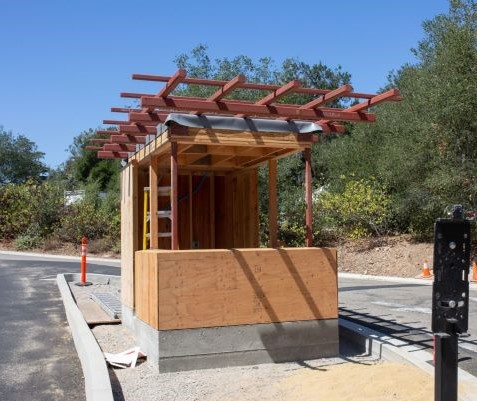 As the talent of Westmont's art community grows, more and more modern art pieces are going up around campus that dazzle and amaze. However, none are more awe-inspiring than the newest piece. 
Brought to you by Westmont's very own construction staff is the newest addition to this campus's repertoire of modern public art. You might have noticed the installments upon entering campus, as these creative wooden structures now serve as a warm and encouraging welcome to all students. In fact, since the twin pieces have been erected at the upper and lower entrances to campus, the effect is even greater. 
Both pieces have been dubbed "Security Kiosk," displaying how student safety is of utmost importance. When we spoke to the lead artist on the project, Kanpu-Seck Urity, he informed us that he intends for the space to be dedicated to those struggling with emotional security. 
"Anyone who needs to can come, at any time of day, and there will be a person there ready and able to listen to your problems. They have no other duty to fulfill there besides listening to students."
The kind-hearted staff, who previously made themselves available under the beating rays of the sun, will now be stationed in these so-called kiosks. Students are welcomed and encouraged to either walk up to speak to the emotional security personnel or to park in the designated spaces on either side of the kiosk. Do keep in mind, however, that a line may quickly form out onto Cold Spring Road, as this service is immensely popular among homesick college students.
These security kiosks are not just functional; they are also thought-provoking art pieces. The seemingly unfinished form of the structure plays another role: the bare beams reflect the potential students have at Westmont. Upon arrival, we all are just as formless and purposeless and incomplete as the "Security Kiosk," but once we receive our degrees, we will be fully realized adults.
Art has a way of deeply affecting us and speaking to the most hidden parts of ourselves. Here at the Capstone, we have taken inspiration from this manner of thinking and pray that students everywhere will as well. Why complete all 37 questions on your problem set when you, yourself, are not a completed human? Why fill all 2,500 words on your not-so-short short paper when, as a student, you have so much more information to be pumped into you? Why put in your fullest effort when one day you will have even more effort to give? Why finish a security kiosk at the entrance to school before students move in, when you can just leave it unfinished until 2025? Kanpu-Seck Urity wishes that all students will find encouragement in this new modern performance art, and at the Capstone we are keeping close watch for the next installment. Rumors tell of the brand new local business, Jared's Last Minute Rings, at the DTR Pond and of a new turtle therapy exhibit.