Retreat brings college choir together
Two towering stained-glass windows. Bags and Hydro Flasks scattered across cushioned pews. Harmonies swelling through the sanctuary. On Sept. 4, 2021, Westmont's college choir found its members at Santa Ynez Presbyterian Church for the first choir retreat in two years.
According to Bella Scott, a senior at Westmont and president of the choir cabinet, "The cabinet's greatest goal stepping into [the] retreat was to really cultivate camaraderie, community and teamwork." A president, vice president, secretary, music librarian and three chaplains compose the cabinet: the choir's leadership team.
Dr. Daniel Gee, assistant professor of music, echoed this sentiment, remarking that "especially after COVID, being able to come back together and … sing inside safely with each other" made the retreat "a special event to get to know each other."
All choir members who attended the retreat were required to provide evidence of either full vaccination or a negative COVID-19 test. By following these guidelines, the members of the choir were able to sing, play and eat together safely without masks. According to Scott, "Being able to test so that we could go maskless [with] no need for distancing changed the game. It was so powerful to see each other for us, not just another set of eyes above a mask."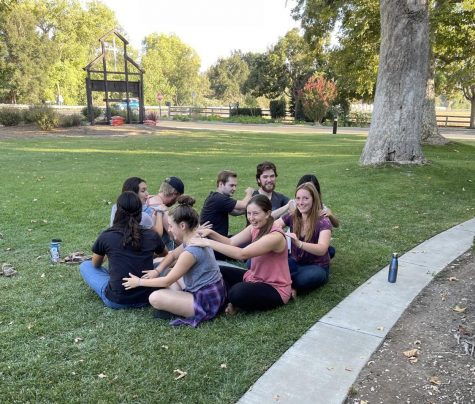 Choir members took full advantage of this special time to be together without restrictions: hosting a kickball tournament, creating a massage circle and giving each other cinnamon roll hugs. 
Amidst the freedom and fun, the retreat was also an opportunity to focus more intensely on music. Gee explained, "I hoped to give … a musical vision of the year ahead, [digging] into some of the bigger pieces we're doing."
With extended time to rehearse pieces like "Spaseniye Sodelal" by Pavel Chesnokov, as well as time to reflect on the poetry that inspired Eric Whittaker's "Cloudburst," the choir deepened its engagement with the music.
Bailey Hall, a sophomore at Westmont joining a choir for the first time, found the intense engagement challenging, but rewarding. Hall explained, "It requires a lot of your brain to learn such complex pieces in such short amounts of time. But there is something that is very immediately rewarding … because you get to hear the product of your efforts come together pretty quickly." 
Bella Scott saw even the more technical parts of the retreat contribute to choir unity, explaining that "the act of investing all of our attention into each other and our art worked to bring us together in ways even beyond what I could have hoped."