Orchestra tells fairytales in fall concerts
Fairytales, Bible stories, and Roman histories whirled together in a tapestry of storytelling by the Westmont Orchestra in their annual fall concerts Saturday evening and Sunday afternoon at First Presbyterian Church. Each year, at the beginning of the concert season, the fall performances mark the start of a new chapter in the Westmont Orchestra's story. This weekend's shows featured an eclectic showcase of musical narratives the orchestra will continue to tell throughout the remainder of their season.
After setting the stage with their traditional opening of the arranged hymn "How Deep The Father's Love For Us," orchestra director Dr. Michael Shasberger welcomed the audience and introduced the first story of the night: Beethoven's "Coriolan Overture Op. 62." A dramatic telling of the tragedy of Roman general Coriolanus, the overture is the first of the orchestra's repertoire for the upcoming Beethoven 250 Orchestra Festival in Vienna this summer.
The audience danced in their seats along with the orchestra's performance of five movements from Tchaikovsky's "Sleeping Beauty." The familiar fairytale themes caught Westmont junior Nick Jensen's attention Saturday night: "It reminded me of my childhood. I got really nostalgic."
The waltzing fifth movement concluded the first half of the concert and energized the audience and orchestra for violinist Michael Kong's concerto performance of Pablo de Sarasate's "Zigeurnerweisen." However, Michael was not the only orchestra member highlighted this weekend.
The closing piece, an excerpt from the opera "Samson and Delilah" by Camille Saint-Saens (based on the Biblical tale), spotlighted multiple soloists throughout the orchestra. As a fantastical finale to a concert filled with whimsical and dramatic themes, the orchestra's sound swelled in excitement. Dr. Shasberger reflected after the close of Sunday afternoon's concert, "It was a very exciting concert and I really think a lot of people were really plugged in because everybody had great parts. There's meat and potatoes. There's something for everybody to latch onto and really love."
Much of that excitement originated from a new schedule and partly new audience. In the past, two fall concert shows bookend the weekend. However, this year, opening night took place in conjunction with Alumni Weekend as a featured event for returning Westmont alumni. Dr. Shasberger noted the highlighted event engaged a new energy surrounding the orchestra's performance: "We've never really done a major artistic offering for the alumni and they responded to it. It was a great crowd last night. I think that was a big part of it, was just building that excitement. It's nice to be a part of the culture. Nice to be part of the fabric."
About the Writer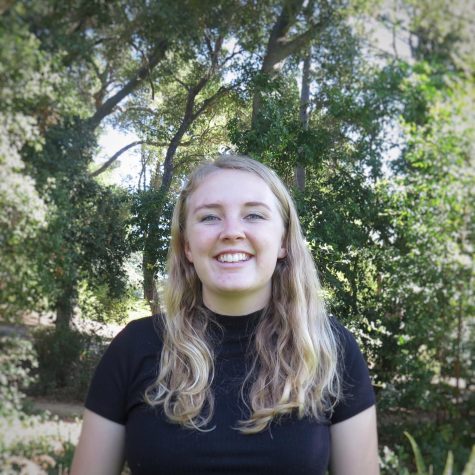 Jada Fox, Students Editor
Jada Fox is a senior English major who wanted to be an astronaut, but settled for cloud-gazing instead.