James Joyce, founder of Coffee With a Black Guy, to run for mayor
On the ballot for the 2021 Santa Barbara mayoral election is candidate James Joyce III, a progressive social entrepreneur with a focus on small businesses. Joyce began his small business, Coffee With a Black Guy, in 2016 after moving to Santa Barbara from Ohio. 
Immediately, Joyce noticed the lack of diversity in the area. When he announced his candidacy in February, Joyce mentioned, "my business, Coffee With a Black Guy, was built around having difficult conversations surrounding race and equity to help communities and businesses come together to create more inclusive spaces. I will bring that experience to the office." Joyce suggested that his experience as a small business owner and social reformer will transfer into his position as mayor.
Joyce could not be reached for comment on his candidacy.
In an interview with the Santa Barbara Independent, Joyce disclosed that race was proving to be a large part of the conversation in his campaign. He said, "It's going to be very difficult for me to enter a race for mayor and have race not be part of the conversation. Not because I bring it up, but because that's the society that we live in. And the fact that … representation matters." As of the latest U.S. Census, the Black/African American community still makes up only 1.55% of Santa Barbara's population. 
Representation is a topic Joyce continuously brings attention to in his business and political career. The Santa Barbara community lacked racial representation when Joyce first arrived and he actively advocates for it today. Coffee with a Black Guy holds quarterly meetings in which he engages people of all demographics of Santa Barbara in conversations over something no Santa Barbaran can say no to: coffee. Since their initial launch in 2016, these meetings have expanded into a political outreach platform and paved the way for Joyce's mayoral candidacy. 
On his campaign website, James Joyce claims that he will achieve the following five goals as mayor: improve community outreach, support our local businesses, ensure housing solutions that meet our needs while respecting the character of our neighborhoods, protect our green spaces, and create a more just and equitable community.
Johnny Jones, Westmont professor and resident director of diversity, equity and inclusion for the theater arts, suggested that the 2021 mayoral candidates "need to focus on the time that we live in right now." So now is not the time to pursue political platitudes. Jones continued, saying, "We live in a global pandemic, and in a localized area — such as Santa Barbara — it is disproportionately affecting the small percentage of Black population." Jones questioned whether Joyce's "coffee talks" will be enough to prove his commitment to real change in the Santa Barbara community.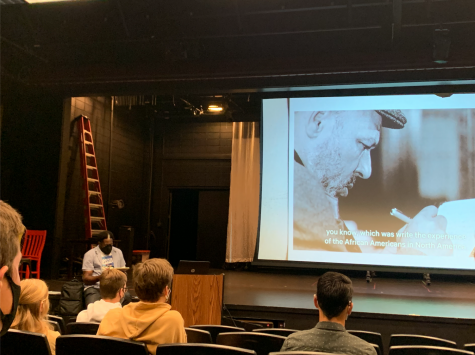 "The unfortunate forgetability of human life [is what] this pandemic has really caused," commented Jones. "When [they] look at the numbers, [politicians must] realize that we have forgotten how many human beings we have lost to this pandemic of whom [a disproportionate number belong to a minority]. Joyce must be able to speak to this present moment in a way that is relatable to all demographics, [which] is what I would hope any candidate would be endorsing in the work that they are doing." 
Citizens of Santa Barbara look forward to the Nov. 2 election date when Joyce will run against fellow candidates Randy Rowse, Deborah Schwartz, Mark Whitehurst, David Matt Kilrain and incumbent Cathy Murillo. To win the election, Joyce must find common ground and common goals with the residents of Santa Barbara. The opportunity to take office will largely depend on his ability to convince the Santa Barbara community of his left-leaning policies as well as the importance of racial representation.