Professor Scott Anderson featured in Westmont's faculty art exhibition
Known for his sleek digital illustrations and excellent teaching, Scott Anderson is one of 10 faculty artists featured in "Sight and Insight: Westmont College Studio Art Faculty Exhibition" at the Ridley Tree Museum of Art from Sept. 2 through Oct. 30.
The show features every medium from watercolor to ceramics and displays the works of Anderson, Nathan Huff, Chris Rupp, Meagan Stirling, James Daly, Brad Elliott, Ryan Ethington, Jenna Grotelueschen, Pecos Pryor and Katie King Rumford.
The Horizon spoke with Anderson to gain insight into his acrylic painting process.
Anderson described how the series, entitled "PLAY," began as "a form of creative play … [an] exploration of technique." However, Anderson explained, "PLAY" began to "take more cohesive shape" as he continued working, evolving into an investigation into "the blurring and changing contours of the definitions of adulthood and fatherhood."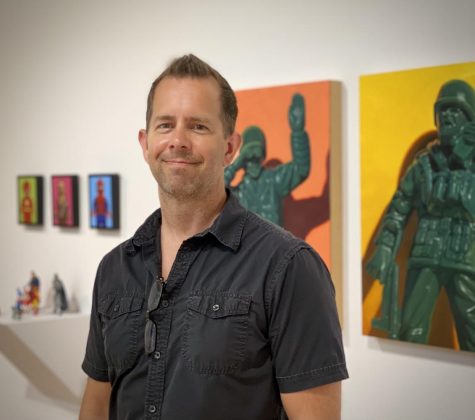 Anderson characterized the series as "a reflection on childhood nostalgia … [and] a joyful celebration of common, in some cases even universal, symbols of childhood."
In creating the pieces, Anderson strove to "elevate [his] skill set to a new plateau, to will [himself] to be a better representational painter than [he'd] previously been." 
To do this, Anderson began by photographing popular toys, like action figures and Legos, in various angles and compositions in a process he described as "sketching with the camera." Anderson then sketched these photos by hand before using Adobe Photoshop to digitize and scale the drawings to fit each canvas. After the drawings were digitized, Anderson began the laborious process of transferring the drawings to canvas using charcoal, applying a midtone of gray acrylic paint and finally adding color with small brushes.
Anderson described how each painting required "slow, meticulous work." Some paintings took over 60 hours to complete. However, the result is luminous.
While Anderson's "PLAY" comprises just one part of the exhibit, its whimsical color and creativity reflects that of "Sight and Insight."
To view Anderson's work, and pieces by other faculty artists, visit the museum any weekday from 10 a.m. to 4 p.m. Admission is free! Call  805-565-6162 or visit westmont.edu/museum for more information.