Coffee and Cramming
Every scream of the espresso machine brings the place to life. Every name called — "Jeff!" "Lucy!" "Todd!" — delivers some electric boost one could never experience with caffeine alone. Dart Coffee, located on East Yanonali Street in the "Funk Zone," has become quite a retreat for Westmont students. 
Throughout the week, the shop bustles with creativity and delicious, stimulating harmony. Regular customer Abi Bradshaw said her favorite part of Dart is the garden across the street since "it has abundant seating, free Wi-Fi, and it's outside." Bradshaw shared that the environment makes light work of her studies while providing a central venue for coffee dates with friends.
Though a beautiful location, the Wi-Fi can be a bit spotty in the garden, a problem easily avoided when using the recently opened indoor seating. The patio off to the side and the added outdoor seating in the parking lot make for better internet speeds as well. Fun fact: apparently the dent in the side of the patio was bestowed when a Westmont student backed into it with their car last spring. We're leaving our mark on the place! 
First-timer Allison Winslow remarked on the whimsical decor and kind, genuine staff: "It feels very light and open, but still homey." Not only do they provide tired college students with coffee and ambiance, but they also host a myriad of events in their garden. Just the other day, they were setting up a rehearsal dinner for a wedding.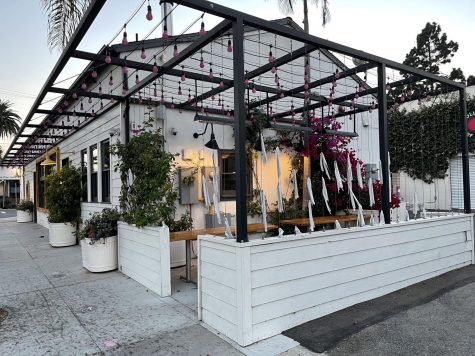 The line, which always seems to be out the door, moves quite slowly, but the shop's variety of breakfast burritos and pastries often leaves customers rethinking their orders. Upon arrival at the register, customers realize they cannot live on coffee alone.
Pro-tip for those who can't break the bank for a scone: at the end of the day, the employees give away their leftover pastries to the first one who pulls up. If you're truly a broke college student, you can go for a two-dollar drip coffee and let the place speak for itself. 
Dart Coffee has become a real community hotspot for Santa Barbarans of all shapes and sizes: dogs and cats included. Yet there's a general tone to the place that seems to beckon young people, especially. One can rest assured they'll see their fellow Westmonters at some point in the span of a few hours.
Overall, Dart Coffee is a hoppin' place to get away from the Westmont Bubble.