Inside Writers' Corner
The unseen workings of Westmont's writing center
Every fall semester, as the kumquats on the way to the library disappear, students notice the growing pressure of two short words on their calendars or syllabi: "paper due."
Paper due: In two weeks. Next week. Tonight.
As students increasingly joke about procrastination, lack of sleep and caffeine intake, an email appears in their inboxes offering a "cure for procrastination."
This is the bold and generous offer of Westmont's writing center. Officially called Writers' Corner, the center not only provides free tutoring services for Westmont students: its statistics, procedures and tutor recruitment patterns reveal aspects of the very nature of Westmont as a college.
According to a recent Writers' Corner system statistics report analyzing data from the last five years, 66% of appointments are made by first-years. This higher percentage of first-year students reflects one of the center's purposes: helping students adapt to the writing demands of college academics.
Dr. Sarah Skripsky, the writing center's director since 2008, affirmed, "So much of student success, especially in their first year or first semester, [is] about successfully responding to writing assignments and deadlines: being able to produce quality work in a timely way."
From her previous experience working on the college's Admissions and Retention Committee, where they reviewed petitions for students on probation, she noticed a pattern. Most often, students on probation struggled with "time management and/or writing-process understanding." They were flagged after failing to turn papers in or repeatedly turning them in late.
Dr. Skripsky observed that Westmont, fortunately, has an emphasis on helping all its students succeed academically, especially since launching the Center for Student Success.  She noted that this emphasis has helped lead to a high retention rate. Dr. Skripsky expressed excitement that, as director, she can help students develop writing skills that "make or break their success at Westmont."
Even for those to whom academics typically come easily, Writers' Corner can still be a helpful resource. As Dr. Skripsky explained, "I'm really passionate about helping students with a wide variety of [writing backgrounds] to succeed in our specific learning community. And we are a very writing-intensive college!"
Currently, Writers' Corner offers tutorials seven days a week with any one of 12 available tutors. Appointments, which generally take place in the evenings, last anywhere from half an hour to an hour. When students register for an appointment on the Writers' Corner website, they select what they want to work on with the tutor. The statistics report reveals the most common of these, as selected in 30% of appointments, is "Developing or unifying my ideas (invention/cohesion/flow)."
Although they may select what they want to work on beforehand and have certain expectations for how the tutors will help, new clients might be surprised by the procedures the friendly peer tutors use.
"Going in, I thought the process would be much more hand-held," said Laijah Day, a first-year student. "I thought [the tutors] would read my paper and give me their opinion on each paragraph. They didn't do that." Instead, Day reflected, the appointment "helped me think aloud and talk about my paper — what I wanted to say in it and do with it."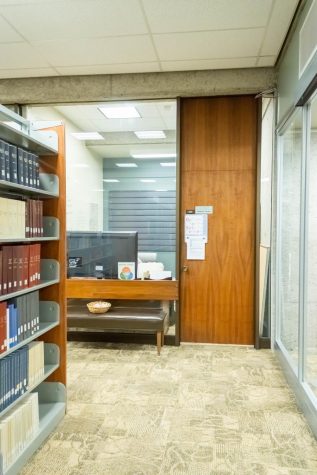 Peer tutors start working shifts by taking a two-credit practicum, in which each one is trained to be "an ethical writing-process coach," in Dr. Skripsky's words. The tutors abide by Westmont's academic policies, which state that the client must always be responsible for his or her own work. This protocol challenges the tutors to balance a minimalist approach that relies on questions to guide the client's decisions and a more directive approach that relies on the tutor's suggestions based on experience.
Ella Jennings, a current writing tutor, admitted that tutoring can feel awkward at times. She explained that the hardest part is "really being present, especially if there are multiple tutorials in a row … and really focusing in on what the client needs help with, and how I can best help them."
However, she also said helping with the writing process is very rewarding: "It's really great to see when the cogs turn in the client's head, just seeing them get it — how to solve a problem with the flow or grammar, and just really understanding and being able to expand on their own ideas."
One of the most difficult aspects of directing the writing center, Dr. Skripsky said, is recruiting new staff members, since tutors graduate each year and others leave for off-campus programs. Regularly requesting faculty to recommend students for the job, she looks for those who "have impressed professors in a wide variety of disciplines as excellent writers." She also asks for students with "strong interpersonal social skills and emotional intelligence."
Typically, for every three students Dr. Skripsky invites to join the program, only one accepts. Dr. Skripsky explained that it is not because of lack of interest in the job; rather, students are often torn between tutoring and other leadership roles. Dr. Skripsky noted that at Westmont, "There's a lot of demand for students to lead various campus activities and programs," such as the Spiritual Formation Coordinators, Intercultural Programs, and Westmont College Student Association. This unique demand makes it harder to recruit tutors each year.
Dr. Skripsky is delighted with the current academic backgrounds of her tutoring team. "One thing that's part of my training [and] that I've tried to bring into the staff of the writing center is to hire more and more non-English majors," she explained. "I almost always recruit tutors who are either double majors or have a major/minor."
These different areas of academic experience especially help tutors serve all parts of the student body: first years in GE classes, sophomores taking early classes in their majors, and upperclassmen who are "tackling complex research and writing projects."
This variety, in Dr. Skripsky's words, "is part of us being a true liberal arts writing center."