Westmont band "The Solid People" dazzles crowd in Isla Vista
Westmont and UCSB students crammed into a grassy backyard lined with lights on Thursday, Sept. 23, to watch Westmont's own indie rock band "The Solid People" perform in Isla Vista. This was the longest setlist and largest audience the group has had since forming last spring — a testament to the momentum and devoted fan base the band is building.
The setlist consisted of four covers, including songs from "Coldplay" and "Mumford & Sons," and six originals written by different band members.
The band boasts of Will Grubbs on acoustic guitar, Caleb Liebengood on keys, Jesse Makuakane on bass, Benny Saito on drums, and Keegan Perez on electric guitar.
The venue "The Bella," home to Isla Vista's Reformed University Fellowship, made for an intimate setting while the crowd brought the energy. Support for "The Solid People" extended beyond the student body to include alumni and even Westmont faculty and staff.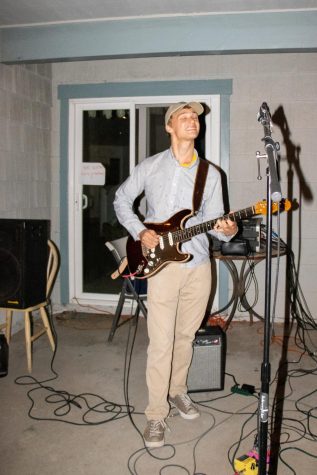 Special appearances from professors Sandy Richter and Holly Beers, as well as members of the Resident Director team, surprised and delighted the crowd. Westmont sophomore Bella Hall observed, "When professors showed up to the concert, the crowd went so wild! It was definitely a highlight of the night, I think most people could agree on that." After all, it's not every day one encounters one's religious studies professor in the middle of a mosh pit.
The band's Christian ties can be found in its name. "The Solid People" is not just a playful catchphrase but an intentional, theologically informed idea. Liebengood explained, "The idea for our name comes from a book called 'The Great Divorce' by C.S. Lewis. The idea is that we are meant to live embodied lives. Restoration isn't something purely spiritual, but something to be physically felt."
What can fans expect from the band in the future? Liebengood answered, "We just want to play more shows and release more songs. We really want to break into the Santa Barbara music scene." 
With their first song, "Unresolved," up on Spotify and an impressive performance already in the books, the band is well on its way to realizing this goal.
Overall, the show was a memorable night for listeners and performers alike. Liebengood remembered fondly, "It was like nothing I've ever experienced before. I've never played in front of that many people and in front of that kind of energy. It was really a dream come true."