Ebunoluwa Kalejaiye: Her journey and reflection on creating community
When naming changemakers on Westmont's campus, Ebunoluwa Kalejaiye is one of the first to come to mind. A vocal leader, her impact on Westmont's campus has been far-reaching in the three years she's been here. 
Sitting down with her, one is amazed by her determination. She has aspirations to study law in the future. What kind? She doesn't know yet, but her political science and Spanish double major and business minor should prepare her well. She is on the pre-law track, but she wants to work across cultures, hence her Spanish major. 
Westmont College was recommended to her by her Young Life leader. She saw the free application and thought, "Why not?" Kalejaiye was invited to interview for the Augustinian Scholars Program and, when she visited, she fell in love with the campus. The scholarship offer sealed the deal. This was where God wanted her.
"I knew that I wanted to go to a school where I could be super open about my faith, but also integrate it into what we're learning and how we can practically use it to be a light on the Earth," Kalejaiye said.
In terms of how this perspective informed her first year, Kalejaiye explained, "I had a lot more expectations for the school than were fulfilled." She noted that she had a very idealistic perspective of Westmont: "I thought …'This school is Christian so all these issues with things like racism and diversity should be solved in a Christian context.'"
She quickly learned, however, that this was not the case.  Reflecting on her first year, Kalejaiye admitted, "I wish that my freshman self was not so disillusioned … especially when I was far enough away from home that I didn't have that contact with my Black and Nigerian family back at home."
Kalejaiye shared that if she could give her first-year self advice, she would say, "Be super excited about going to college and slowly starting to find that independence, but also be realistic about what that experience is going to look like in a white normative space without the constant and immediate direct support from your community." 
Kalejaiye noted that one of the biggest ways she's grown at Westmont has been in "being able to find my people, and help create that community for others coming in … I had to learn not to … isolate but to find community because there are others who are feeling the same way."
And she has found her community. As a leader of Westmont's Black Student Union, Kalejaiye spoke of how this community has given her strength: "I have really been encouraged by seeing that the people who are in it are in it 100%, and they pursue change in any way that they can, even in a limited capacity as a student."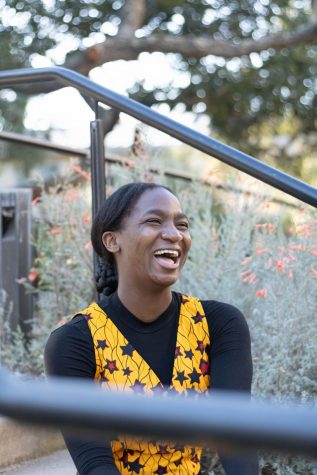 She is also one of the founding members of the debate team and is now debate club president. Furthermore, she manages the women's basketball team and works with them. 
Kalejaiye has created her own space at Westmont College. Her own desire for community has created a place for other people to feel at home and to grow throughout their college years. 
And after college? She currently works as an intern at the Santa Barbara County Immigrant Legal Defense Center where she sees herself working for the next few years until she heads off to law school.
There are still a lot of questions about what the next few years will look like for her, but she remains confident in her future, saying, "I know that whatever I want to do, I want to be helping people find a community [and] using the gift God has given me to love law … I believe that the best way to glorify God is helping people."