Swinging back into things: Ballroom dancing in the almost-post-COVID world
Ballroom dancing, or social dancing, is back on campus after a year-long hiatus due to COVID-19.
On Wednesday nights, students of Westmont's ballroom/swing course gather to learn many of the different styles of social dancing, focusing primarily on urban and energetic Latin styles. What may seem like an irrelevant activity to many may be critical in reintegrating students back to normal life at Westmont. 
To address concerns about the more contagious delta variant of COVID-19, all dancers are masked and encouraged to wash hands before entering the classroom.
The class introduces the two main roles most social dancing styles have: the traditionally male leader and the traditionally female follower. For experienced pairs, the leader typically guides the follower into dance moves without verbal communication and determines which moves to do next. The follower, in turn, learns to read the leader's cues and reacts accordingly. 
Students first learn the basic steps separately and then join their partners to learn it together. As a pair, they learn the cues in each skill. Much time is dedicated to learning the basic steps so that new skills, such as spins, dips and stylings, are much easier to learn. 
In class, the leaders and the followers rotate so each follower dances with each leader throughout the class. Dancing with different people reveals the variety of comfort levels in social dance. "It teaches you how to be attentive to people's levels of confidence and openness," stated Jordan Walker, a psychology major taking the course. 
Steven Matsumura, instructor of Westmont's ballroom/swing course, identified the class as a way "to enjoy the beats and music of different cultures." So far, the students have covered bachata, West Coast swing and salsa, although future styles will include rumba, cha-cha, waltz, East Coast swing and tango.
When imagining the origins of ballroom dancing, people might envision images of prim, proper and posh elites in elaborate garb. This association, however, does not apply to the ballroom/swing class on campus. "Ballroom used to be a very aristocratic sport," said Matsumura. "I think that, especially now, the relevancy and joy of … social dance is beyond [distinguishing] yourself from society, but more as a way to connect with people in a healthy way."
Walker echoed this sentiment. She believes social dance on campus could promote healthy "physical connection" and dismantle "a lot of stigma against [healthy physical touch in] the Christian world."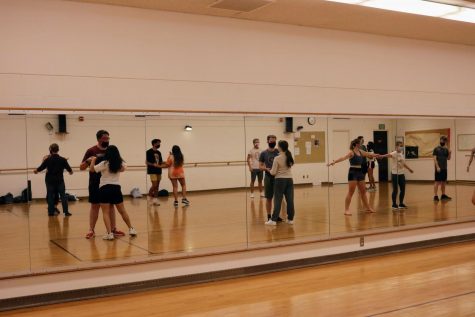 In addition to the fun it provides, social dancing could help reteach students how to interact with others after a year-and-a-half of social isolation. "Dancing in general is a good way to connect with people … Getting to know someone's cues in [social dance is] a good physical thing to have. Especially … post-COVID with masks … we're all relearning those social cues and trying to figure out how to act normal again after being virtual for so long."
Daniel Macy, another student in the class, agreed: "After a year of isolation and distance, I think the responsible contact taught in ballroom and swing is useful to reintroduce the beauty of social interaction."
Similarly, Matsumura stated, "Especially now in the time of quarantine and isolation, [social dance] is very needed … I think touch is powerful in a healthy way, so I think dancing, music and social ballroom is a very integral part of our recovery from quarantine." 
For students not enrolled in the ballroom/swing course, the Westmont Swing Club welcomes students of all experience levels. The club meets on Saturday nights from 8-10pm in the dance room. Contact Mattias Bunn at mbunn@westmont.edu for more information.