Reframing Jo: From transfer to transformer 
In fall 2021, former Santa Barbara City College (SBCC) student Joanna Martin transferred into Westmont College as a 26-year-old junior. Born and raised in Morocco and educated in both the United States and France, Martin has had significant experience adjusting to new cultures. Overcoming the challenges of COVID-19 restrictions, as well as disparities in age and life experience, Martin has managed not only to connect with people but also to empower them.
In the years leading up to her time at Westmont, Martin explored many cultural spheres. After nine years in Casablanca, Morocco, she moved to Anaheim, California. There she attended the Orange County School of the Arts until her junior year of high school. 
Her senior year she spent in Rennes, France, doing the School Year Abroad program. Martin identified the experience as her "dream come true": touring the country, living with a host family and diving into French culture, language and history. 
Amidst exciting opportunities to "walk around the cobblestoned streets of France," Martin noted that "during that time, I really took ownership of my faith."
Wanting to further deepen her faith, Martin chose to spend the next three years at the Bethel School of Supernatural Ministry (BSSM) in Redding, California. Reflecting on the experience, she said, "I think I really learned who I was as a daughter of God [and] how to hear His voice." 
At BSSM, Martin was also introduced to the concept of family heritage — how her family's past has implications for her own life. This newfound understanding was one of her first steps towards coming to Westmont, as she recognized that her father's childhood ties to Santa Barbara extended to her, too. 
After what Martin identified as God-given dreams leading her to Santa Barbara, she moved to the area in August of 2017. She lived in Christian community houses in Isla Vista and downtown Santa Barbara while attending SBCC as a music major. 
During that time, she underwent a difficult "transformation process that involved a lot of pain."  With the help of friends and mentors, Martin emerged from the experience with a newfound sense of maturity, as well as "a feeling like it was time to transfer [schools] for a new season."
Martin said that, after two years at SBCC, "little annoying hints about Westmont started being dropped in my path." Initially, she didn't want to "go back into the Christian bubble." 
In the end, however, she felt God was calling her to Westmont through "a series of additional dreams and confirmations."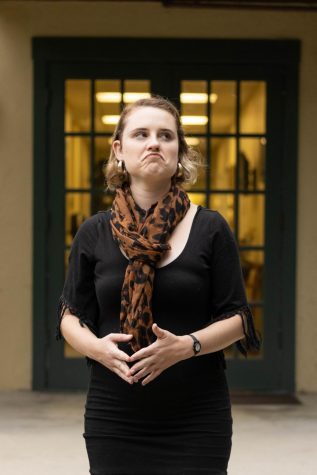 According to Martin, "Moving to Westmont … was a lot lonelier than I thought [it would be] at the beginning." Speaking to the struggles she faced as she tried to enter a new community in the middle of "Pandemic Year," Martin said: "I didn't know anyone … I was a junior, and most upperclassmen had had their friend cohorts for a while … so it was actually a very lonely first few days."
Martin explained that, after befriending a fellow transfer student, the two "challenged each other to meet someone new every day," reaching out to strangers in the Dining Commons and getting meals with them.
Martin described her attitude this way: "No one's going to reach out to me … I need to take the initiative to build friendships and have a social life." At the same time, she was learning to "trust that God has those connections for me."
In addition to the circumstances of COVID-19 and her status as a transfer student, Martin also faced the academic challenge of taking 18 units in her first semester at Westmont. In the end, Martin felt that she "grew in time management skills."
Yet another challenge Martin faced was the age difference: "Even though there's not much of a difference, I'm a millennial and most of the students here are Gen Z, and so there's just like, certain entertainment things and cultural [differences] … [sometimes] I feel like a dinosaur." However, Martin also admitted that she "made it a big deal when it didn't have to be."
Eventually, Martin began to see the age difference as one of the many ways God "really humbled me and helped me learn to be at Westmont with an open slate." After her application for a Resident Assistant position was rejected, Martin realized that "age and experience isn't automatic ground for getting a certain position."
Identifying humility as "a big recurring theme in my time here," Martin explained that God has also taught her "you can learn from anyone — not just from your professors, but from the freshman who's in your Bible study."
As she overcame barriers regarding age, experience and workload, Martin found lots of ways to integrate herself into the community. Reflecting on how she's impacted the Westmont community, Martin noted, "Many people have described me as a pioneer, so I love to start new things and [also] empower people to lead."
One of the biggest ways she was able to connect was through leading a Capax Dei. Partnering with InterVarsity as an intern through Scott Lisea's ministry leadership program, Martin formed her Capax Dei as a Bible study through the gospel of John.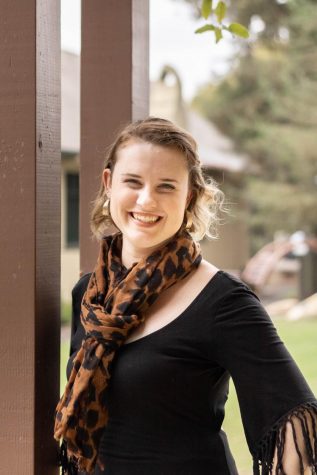 Although most who originally signed up for her Capax Dei dropped out, Martin "just started inviting people that I met." Martin said this was "a really cool way to build community and have something consistent." She explained that those she invited not only showed up with some consistency but also "all agreed to come back next year and help lead, which shocked me."
Martin expressed a deep passion for "learning to train people … to see people's gifts and … come alongside [them to] help build what's already a strength." This has manifested not only in her Capax Dei, but also in her role as a member of Westmont's Orientation Committee team.
Speaking to her role on the Orientation Committee, Martin explained, "I read the description and realized that I wanted my goal to be leading and training future leaders." 
In addition to leading this Capax Dei group, Martin serves as a Spiritual Formation Coordinator in the Global Leadership Center. She explained that this role has empowered her to do what she's already been doing in a more official capacity, helping her to "create a space where people come and feel comfortable sharing or getting prayer." 
Through both informal friendships and formal positions as an InterVarsity intern, Spiritual Formation Coordinator and Orientation Committee member, Martin has connected with and encouraged people at all stages of their Westmont experience.