Class of 2020 returns to campus for commencement
On Saturday, Oct. 16, the Westmont community welcomed the return of the graduating class of 2020 as part of homecoming weekend.
The graduates received their diplomas as they walked across the stage on Carr Field during an in-person commencement. Out of the 298 graduated seniors, 180 returned to Santa Barbara. It was a weekend dedicated to the celebration of these graduates and their time at Westmont.
President Gayle Beebe said that he was "looking forward to celebrating the whole class but especially celebrating some of the students who have very unique stories and come from amazing backgrounds … Some had incredible hardships that they had to overcome, not only to get to college but to finish college." 
Throughout their years at Westmont, the graduating class of 2020 endured multiple challenges. Returning graduate John Butler commented, "The natural disasters and pandemic greatly impacted my activities during college. Since everything I do revolves around gatherings of people, it is hard to do a lot of the things I love, like making movies or music." 
Together, this class overcame the threat of the Thomas Fire, which forced the college to evacuate twice in 2017. Soon thereafter were mudslides which devastated Montecito. Finally, in March of 2020, the coronavirus outbreak caused the college to shut down on-campus activity and move to remote learning.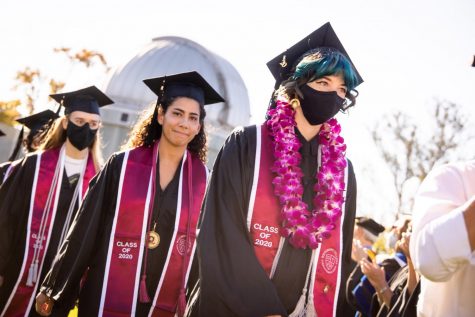 The 2020 graduates completed their final semester via Zoom and attended their commencement online from various parts of the country and the world. This homecoming weekend, the Westmont community held true to its promise to give these 280 graduates a proper commencement ceremony and provided the returning graduates with a sense of closure to commemorate their time at Westmont. 
"At first, having a ceremony didn't seem like a big deal to me. Since 2020 took such a serious turn, I was really just trying to finish and get it over with," said Butler. "I even said to myself that, if it happened, I likely wouldn't go. On the other hand, I cannot imagine a better way to commemorate our class, even if it was a year and a half later." 
This year's homecoming celebrated much more than graduation. The weekend's program included a children's fair, a young alumni tailgate, men's and women's soccer games, and the annual All-Alumni Awards Celebration.
Butler joined in on the festivities and described it as "an incredible, surreal and beautiful experience." Homecoming afforded the opportunity for celebration and camaraderie among alumni, family members, faculty and current students.