Coldplay's latest album is silly, but fun
After six world tours and over 20 years producing music, Coldplay released its ninth studio album, "Music of the Spheres." 
I erroneously hoped that "Music of the Spheres" would clear up whether Coldplay was ready to reinvent its sound with Death Star-scale synths or whether it would grasp desperately for relevance. Frustratingly, the album does both.
After an atmospheric intro, complete with glimmering space choirs and a big, oscillating bass, the album starts off strong with "Higher Power." This blastoff love bop introduces the synths and percussive electronics featured in the rest of the album. With massive keyboard hits and jangly arpeggiators, "Higher Power" proves Coldplay can still write catchy, radio-ready melodies.
Yet at times, "Music of the Spheres" overlays lyrics so dumb with music so serious that you'll hurt your eyes rolling them back into your head. 
In "Humankind," for example, space instruments march triumphantly into lyrics as laughable and etymologically incorrect as "We're only human / But we're capable of kindness / So they call us humankind." Roll over, Gustav Holst.
In "Let Somebody Go," shimmering electric piano backs a breakup ballad that will probably get old quickly and make people who haven't heard Coldplay think they hate Coldplay. 
The record redeems itself with "People of the Pride," the closest thing to rock on the album. The song sounds like it belongs on "Viva La Vida," with brass and strings, double-tracked guitars and huge, Brian-Eno-sized production. The lyrics are cynical and revolutionary, full of "yeah!"s and even an F-bomb.
One of the reasons "People of the Pride" shines is because it was partially written during the "Viva" sessions. However, Coldplay uses Swedish hit-generators Max Martin and Oscar Holter in other songs, which makes many of them sound repetitive. 
In contrast to "People of the Pride," "Biutyful" is lush and hopelessly romantic in just the right way. Heartfelt lyrics, acoustic guitar, bubbling synth and high-pitched, echoey vocals make the song feel fresh and authentic. 
Unfortunately, listeners can't ignore "My Universe," a collaboration between Coldplay and Korean Pop group BTS, and also the most off-putting song on the album. It opens to a loud chorus and maintains that energy level for the entire track. While the parts with BTS work better than those with just Coldplay, the song fails to showcase either group at its best.
The album's final two tracks hint to what the whole record might have been: sweeping, cosmic sound. 
In "Infinity Sign," synths swell, swirl and arpeggiate while crowds chant "olé" and Chris Martin recites a broken Spiritus Sanctus.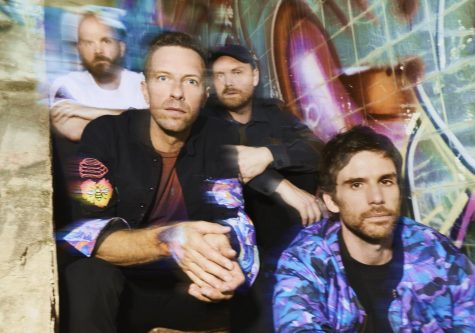 In "Coloratura," Coldplay explores the meaning of heaven with a poetic, hymn-like sound. An orchestra tunes, synths leap about, a piano joins in, and Jonny Buckland's delicate fingerpicking complements a harp. Aided by Guy Berryman's richly composed bass parts, the band trade places with the orchestra as the song changes key signature. The timpani, tremolo violins and slide guitar build. The song climaxes with a graceful trill, a breathtaking finale for a mixed bag of a record.
With nine hit albums, Coldplay remains a pillar of pop music. However, the band's best music is its least popular. Take "Everyday Life" for example — it's one of Coldplay's strongest records of the past decade but also their lowest-charting to date. 
"Music of the Spheres" shows how hard great music is to make when loud, superficially optimistic songs are the ones that stay relevant and sell concert tickets. Much of the album is laughable, but if you stick it through, you might be able to find something worth listening for.