A glimpse into Westmont theater's "Kitty Hawk or Kill Devil"
If you've ever flown — or wanted to fly — an airplane, stared longingly at the moon, or eaten cornbread, then chances are you'll enjoy "Kitty Hawk or Kill Devil."
"Kitty Hawk or Kill Devil" premiered this weekend at Westmont's Porter Theater, wowing audiences with talent, wit and an avant-garde approach to the history of the state of Ohio.
The comedy follows the stories of the Wright brothers, one of their love interests, a struggling Ohioan household and Michael Collins — the third Apollo 11 astronaut. Each story takes place in a different time period, but they all have one thing in common: "proximity to greatness," as director Diana Small called it. 
The play takes a lighthearted approach to understanding love, ambition and curiosity. However, as Small explained, it also illustrates how "in order to brave new, unknown things, loss is inevitable." As the character Lucas, an Ohioan eighth grader in the play, states: "People die for progress."
Westmont theater is the first group to ever perform "Kitty Hawk," which was written by Hannah Kenah, a Los Angeles-based playwright who grew up in Ohio. The play's groundbreaking debut at Porter Theater is part of Small's plan as a director: "One of my objectives as an artist is to try to make as many new plays happen as possible," she said. "The arts [are] having a reckoning," Small explained. "We're trying to create accessibility and [diversify] the voices and folks that are in charge."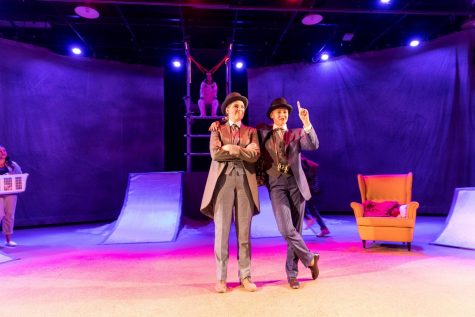 While Small acknowledged that diversifying the types of plays performed means "not everyone's going to get what they want," she hopes doing so will afford audiences closer proximity to the greatness of marginalized playwrights and stories. 
While theater has changed greatly during COVID-19, the rehearsal process for "Kitty Hawk" resembles a return to what it was pre-pandemic.  
"It's exciting to be around people and to [be] in proximity with people [again]," shared Rachel Herriges, third-year religious studies and theatre arts major who plays Lucas. "It has been very intense because [rehearsing in person] is just something that I didn't realize I missed so much, and something that I didn't realize was so hard."
Not all pandemic-era changes were negative. Emiliana Brewer, fourth-year theatre arts major who played Ruth Lyle — the Wright brothers' fictional secretary — noted, "[The] pandemic has really helped the theater department grow a lot, especially in the film." One such project was last year's "A Winter's Tale (interrupted)," which is still available on Vimeo for viewing.
If there's one message Small hopes audiences will take away from the show, it's to "[be] honest with what the desire of your heart is." "Kitty Hawk or Kill Devil" runs Oct. 28, 29 and 30 at 7:30 p.m. with a matinee performance on Oct. 30 at 2 p.m. Purchase tickets here to put yourself in proximity to greatness at Porter Theater.