Finally, a "Dune" worth waiting for
I've been anticipating Denis Villenueve's auteur adaptation of "Dune" since 2017, and I've been a fan of the book series since I was 13. I've read and reread all 600-and-some pages of Frank Herbert's 1965 science fiction novel as well as each of its five sequels. I've seen David Lynch's film, watched the Sci-Fi miniseries adaptation, and poured over old Frank Herbert interviews. 
So, as I sat humbly before the looming movie screen last Saturday night, I felt a little like a worshipper returning to nerd church. 
Of all the movies I've ever seen, "Dune" may be the biggest. I'd recommend seeing it on the big screen on that merit alone. 
With its thorough world-building and critical reflections on social mythology, charismatic leaders, political violence and the human spirit, Herbert's novel can feel as dense as a brick. In Villenueve's adaptation, when Herbert's ornithopters, Sardaukar legions, Holtzman shields and giant sandworms grace the screen, the vastness of Herbert's vision comes to life.
"Dune" succeeds because Villenueve never relies on giant sets or CGI to sell the film. Instead, he uses creative camera work to capture the internal monologues that add so much intrigue to the book. When Paul has his spice-visions, the film blinks into abstract representations of Paul's possible futures. These regular glimpses into Paul's mind are a refreshing contrast to recent cinematic trends towards riskless objectivity.
Villenueve's affinity for symbolic, symmetrical and striking images is on full display in this film. Every frame in "Dune" could be a promotional still. Villenueve's directing paired with the restrained rhythm of Joe Walker's editing keeps viewers' eyes transfixed on the screen.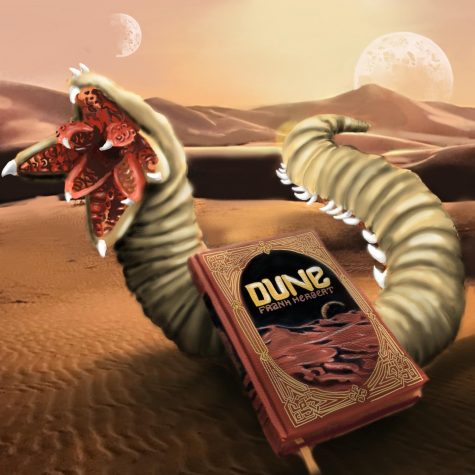 With over a dozen essential characters, "Dune" is bound to have a dud or two in the ensemble, right? Wrong. Paul's mentors in House Atreides are all perfectly cast. Oscar Isaac's tragic Duke Leto II is perfectly believable as he shares tender moments with his son Paul. Jason Momoa manages to be simultaneously warm and fearsome as Duncan Idaho, duty-bound to his House and to the Duke, and I can't wait to see more of Javier Bardem's desert-hardened Stilgar in "Dune: Part 2."
"Dune" finds its emotional footing in the relationship between the Lady Jessica, played by Rebecca Ferguson, and her son Paul, played by Timotheé Chalamet. As the two exiles traverse the dunes of Arrakis, we watch the strain in their relationship as each struggles to understand the decisions of the other. Ferguson skillfully depicts both Jessica's incredible power and mortal fear for herself and for her son. Chalamet's Paul wrestles with the terrible purpose into which he was born. Both Chalamet and Ferguson weaponize silence, adding sensitivity and nuance to the storyline. 
"Dune: Part 2" promises to cover a lot of content, which somewhat dampened my enjoyment of the first film. The legacy of "Dune" depends largely on how audiences receive "Dune: Part 2," which may take three or more years to appear on the big screen. 
The only other critique viewers might have is that, while Villenueve's adaptation is fascinating and rich, I have yet to hear anyone call "Dune" fun. 
Villenueve's "Dune" might be the best and most faithful adaptation of Frank Herbert's book ever put to screen, as well as one of the most awesome viewings I've experienced. Clocking in at just over two-and-a-half hours, the movie requires a lot of commitment; however, the beauty of Villenueve's craft and the passion infused in every frame will prove more than reason enough to buy a ticket and watch the film in the theaters.