The game is afoot!: Getting to know Sherlock Holmes
It was a dark and foggy afternoon. Dusk made its way towards the hallowed campus. The crows caw-ed and the owls hooted as students, professors and community members made their way to the GLC. On Tuesday, Oct. 19, the English department got in the Halloween spirit, inviting Dr. Elizabeth Deis and Dr. Lowell Frye for a presentation on Sherlock Holmes.
Both Dr. Deis and Dr. Frye are professors at Hampden-Sydney College in Virginia and former colleagues of Dr. Mark Nelson, professor in Westmont College's philosophy department. His connections helped the English department head, Dr. Cheri Larsen Hoeckley, bring them to Westmont to share their expertise. 
Larsen Hoeckley shared that what brought them to Nelson's attention was "their scholarship in 19th-century British literature and their gifts as lecturers for undergraduates." They are both versed in Arthur Conan Doyle and eager to share their knowledge from years of studying the Sherlock Holmes series. 
The presentation centered around Doyle's use of "transformation clues," as Dr. Deis termed it. In every Holmes novel, Deis said, "There is a clue that makes every other clue fall into line." She demonstrated Holmes' ability to observe things in ways others couldn't. Referencing old-fashioned illusions such as the "Rabbit Duck Illusion" (see below) Deis explained, "He has the ability to see two things at once. When some just see a duck, he sees a duck and a rabbit."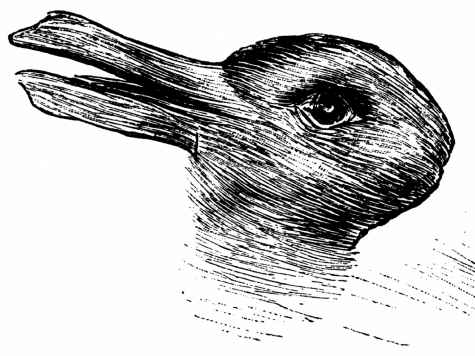 It's this ability that allows Holmes to see the "transformational clues" and subsequently solve the mystery. 
Deis also emphasized the role of class in Doyle's novels. Though he was an extremely successful author, Doyle didn't always live an affluent lifestyle. He grew up quite poor and often endured hunger and unsteady living conditions. This aspect of his background led him to frequently include characters who were less fortunate alongside the aristocratic types. 
Deis explained, "Much of the time, these lower-class characters would be used as a scapegoat for the true killer." She went on to say that Holmes was the only one who eventually saw that these accusations were only a red herring. 
Dr. Deis turned the podium over to Dr. Frye, who offered Watson's side of the story as Holmes' sidekick. He mentioned, "In film adaptations, Watson is often portrayed as some buffoon, but he was really there to turn Holmes' investigations into compelling stories." 
Frye saw Doyle's genius in putting Holmes, a self-centered genius, and Watson, a self-assured assistant, together. Frye said, "The back-and-forth between Holmes and Watson is what makes the novels so compelling. Without Watson, we wouldn't know Holmes very well." 
As a scholar of 19th-century literature, Larsen Hoeckley encounters Doyle quite often. Identifying as someone who thinks a lot about literary adaptations, Larsen Hoeckley explained that she's "recently been interested in adaptations of Doyle to the screen." 
Reflecting on Deis and Frye's presentation, Larsen Hoeckley remarked, "Dr. Deis' comments on transformational clues helped when thinking about how the narrative moves." She also appreciated Frye's contributions regarding how Doyle's novels are transformed for visual media.
Second-year Sofia Pela was one of many students who attended the event. At the end of the presentation, however, she commented, "I had only heard of Holmes a few times, so it was exciting to learn all about [Doyle], who created such an expansive series!" 
Altogether, students and professors agree that Dr. Elizabeth Deis and Dr. Lowell Frye successfully untangled Doyle's "inextricable mysteries" that afternoon. There's much more to come in the English department, however. English majors and minors will receive email updates on future lectures. Meanwhile, others interested in literature or hungry for snacks should keep an eye on the TVs in the Dining Commons, which will announce future English department events.