Mercy Milliken: On generosity and hospitality
Known and loved by many, Mercy Milliken is a light to whomever she interacts with. Born and raised in South Korea, she attended an international school, which meant she grew up in what she described as a "niche community [in] Seoul."
At 15, Milliken moved with her family to Papillion, Nebraska. Through random connections, she found Westmont and it checked all her boxes.
Though Westmont met all her criteria, Milliken's first year still had its struggles. In adjusting to a new environment, first-years face a time of constant transition, often accompanied by feelings of isolation and exhaustion. As a first-year, Milliken further heightened that pressure by idealizing college in her mind, expecting to make it an amazing experience. 
In hindsight, Milliken reflected, "I would tell myself to not worry about finding the perfect people so much or controlling every aspect of my environment and to be willing to ride the ups-and-downs of that transition. I would tell my freshman self to free myself from making it this amazing thing and let it happen the way it happens." 
While her first year did not meet all of her expectations, Milliken's perception of Westmont as a friendly and welcoming community has been confirmed throughout her time here.
Her visiting weekend set the tone for her future at Westmont. Recalling this preview, she spoke highly of the community she encountered: "I was just so amazed that these people would go out of their way to accommodate me when they barely knew me."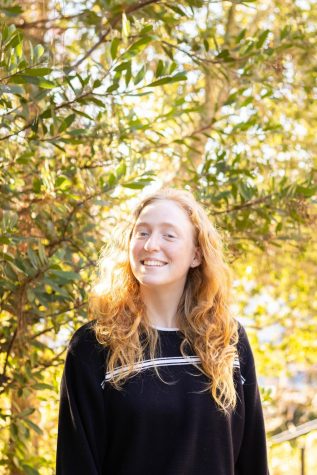 Milliken described feeling like she'd made friends even though she spent just a short amount of time here during that weekend. One of those new acquaintances, Karly Kingsley, is now her roommate.
Amidst the many meaningful connections Milliken has made at Westmont, she identified recent graduate Maddy Lush as "one person in particular who comes to mind." Milliken explained, "She was a third-year student when I came. We had a bunch of random things in common. But she let me use her car all of freshman year, and that's a big thing when you're a freshman and not having reliable transportation can make or break your Westmont experience."
Reflecting on how Lush's generosity impacted her, Milliken said, "I remember feeling very lucky to have access to a car and that set a really good example for me."
Laughing, Milliken talked about her own car, Rosy, and how it has helped her make a lot of new friends: "My sophomore year, when I had a car on campus, I felt like this is one very tangible way that I can help others out." It's common for her to hear that people rode in her car before they knew her. Lending Rosy to students in need is just one way Milliken has tried to help people feel at home.
Having many friends transfer from Westmont their first year prompted Milliken to think through what makes Westmont a home for some people and why it doesn't work for others. She asked herself, "How can I, in this small Westmont community, play a part in making people feel welcomed and open up the community for them?"
In her day-to-day life, Milliken's heart for others shines through as she commits to reaching out and getting to know strangers. She explained, "I always felt called to make people feel welcome and to build relationships." Westmont has been a great place for Milliken to embrace that calling, reaching out to many students who are open to building meaningful relationships.