Students reflect on Dia de los Muertos
The first day of November marks the Mexican holiday Dia de los Muertos, or Day of the Dead. Westmont students explained the holiday and the traditions surrounding it.
Junior and leader in the Latinx Student Union (LSU), Saray Duran described the holiday as "a celebration of remembering one's loved ones that have passed on." Celebrants remember loved ones by creating an altar. Duran explained that the altar is "decorated with marigolds, or cempazúchitls." She added, "Sometimes, some families lay oaths of marigolds, which guide the spirits of their loved ones who have passed to their family's altar for them to visit." 
In addition to flowers, Duran noted that people also place "pictures of the loved ones, their favorite foods [and] their favorite drink" on the altar.
Tradition holds that on the Day of the Dead, those who have passed away can return to the world of the living. According to Duran, lost loved ones "come and collect their favorite drink [and] food, and they visit their living family while the living family is remembering them." 
The holiday includes other traditions. First-year Alondra Figueroa described how her Oaxacan family celebrated: "Where my dad is from, they do a parade … They usually like to end the night with fireworks."
Figueroa also described some of the foods eaten during Dia de los Muertos: "They do Pan de Muerto, which is basically a big loaf of bread in which they put a face and put them on the altar or at the grave." Another food she mentioned was champurrado, explaining "it's normally cold, so I know a lot of people will make hot drinks." Figueroa added, "The traditions vary by region in Mexico."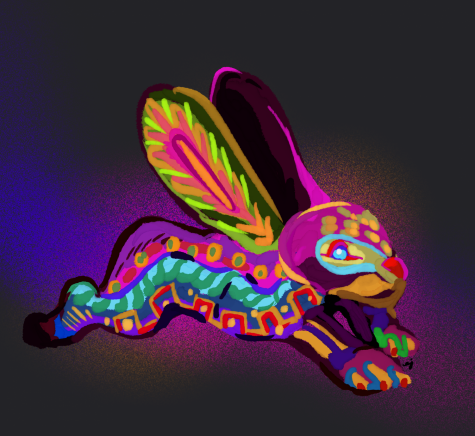 Duran explained one variation in the tradition: "There's this thing called alebrijes, and I didn't know these were a thing until I watched 'Coco' for the first time. Alebrijes are basically a spirit guide in the world of the dead that each person has … They travel with the alebrije on the day of the dead and they come to the world of the living." 
Figueroa, who made an alebrije sculpture this year, offered her understanding of the spirit guides' significance: "Sometimes they can represent a family and can be passed on through the generations."
Dia de los Muertos is usually celebrated alongside living family members to remember loved ones who have passed. When asked how she would celebrate on campus by herself, Duran answered, "I don't really do that." She explained, "It's not because I don't want to. I'm not in an environment where that is a huge deal so I don't know where I could [celebrate]."
She then spoke about LSU's event on Nov. 2: "Thankfully, with this event that LSU is coming up with for the Day of the Dead … I am celebrating it for myself and with our Latinx community here on campus." 
Meanwhile, Figueroa already started celebrating at Westmont, explaining, "I made my own alebrije  this year." She also noted, "I definitely have my traditional dress here," and expressed interest in decorating her dorm room for the occasion.