Senior Gabriel Rojas on composing original music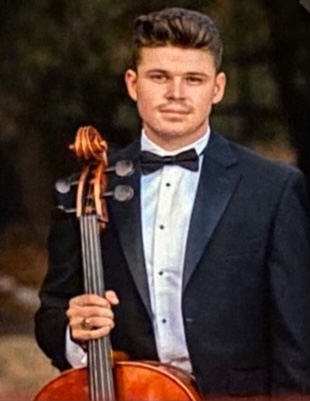 On Friday, Nov. 12, Westmont students crowded inside Deane Chapel to hear student composers' original works performed by fellow Westmont musicians. The lineup included Ben Gillmer's "Another Hero," Gabriel Rojas' "Palengenesia," Keegan Perez's "Angus Dei," Karis Daley's "Irrepressible Stream" and Nathan Carlin's "Strength From Above."
After watching the pieces come to life, listeners might wonder what composing music entails. Senior Gabriel Rojas spoke about his creative process and the challenges of writing original pieces.
Rojas is a music composition major who's well-trained in classical music and has composed many pieces over his 11 years playing piano and seven years playing cello. 
"Well, [creating music] usually starts on the piano," Rojas explained. "I usually come up with a theme, a main theme, and I build off of that. So I pick a key theme and usually I try to relate the piece to something revolving around my faith." 
Rojas does this by incorporating ideas and stories from scripture into the sounds of his music. "I always try to dedicate my music to God because I know that apart from Him I can do nothing," Rojas said. "So, in a way my inspiration intentionally revolves around my personal relationship with God."
Rojas also takes inspiration from Romantic pianist Sergei Rachmaninoff, as well as Hans Zimmer, who composed scores for "Dune," "Inception," "The Dark Knight" and "Interstellar," among other films. "They're very different from each other, but one thing that I resonate with is the raw emotion and passion they have written with … I just aspire to write as well as they have and do. I tend to put a lot of myself into every piece, so it comes across as heavy sometimes, but it's real."
"I work with scores as notation," said Rojas. Rojas enjoys using computer software to compose because "it's like a piano on a computer and I play the keyboard and I [have] an orchestra at my fingertips. A lot of film scores you hear [are] done like that."
For Rojas, getting started is the easy part. What's harder is completing the piece. "[I] have a lot going on in my head all the time and I usually am in the midst of, like, five projects at one time and so sometimes [finishing pieces] just gets boring."  
Despite the challenges, Rojas remains dedicated to his work. "I purposely give myself just about too much work to handle, but I do it because I know it'll force me to grow as a composer and as a professional. I know when [the piece is finished] when I am satisfied."
Rojas also noted that "getting people to say 'yes' [to playing his pieces] … is pretty rough usually, especially if the piece is difficult … there's a fair bit of planning involved."
Rojas said, "[professor] Dr. Butler has been a major beacon of light for me. He's guided a lot and has kept it real with me all these years … He's extremely patient with me and he lifts me up when I need it and he brings me back to earth when I need it as well." 
Rojas has plenty in store for the future. "I'm excited for probably the biggest musical experience coming up next semester" — a composition to be performed by Westmont's orchestra in January as well as debuts of other original pieces. After graduation, Rojas hopes to study film scoring in graduate school and eventually work on film scores.
If you missed the composers' concert, there are still chances to support student musicians with the string chamber concert in Deane Chapel on Nov. 19, the seventeenth annual Christmas concert at the Granada Theatre on Dec. 4 and 5, and the jazz concert in Deane Chapel on Dec. 8. Find more information at www.westmont.edu/music/concerts.