Gregory Alan Isakov means more at night
There are some concerts you attend for a pleasant evening of listening to your favorite songs, and then there are others where the music is so deeply emotive that you forget entirely where you are as you're whisked away into a lyrical, meditative state. 
Seeing Gregory Alan Isakov last weekend at the Lobero Theatre was one of the latter. 
The intricate poetry of Isakov's lyrics paired with the deep grittiness of his voice created an imaginative, consoling and ethereal experience for listeners on Nov. 26 and 27.
There is a certain elegance to Isakov, originally from Johannesburg, South Africa, that stems from his practices as both a musician and farmer. Isakov played his first gigs while studying horticulture at Naropa University, and his music still brandishes undertones of agricultural custom and environmental activism.         
Today, Isakov runs Starling Farm, an organic vegetable farm in Colorado. He schedules tours for down season so he can travel without missing a harvest. In this same, unhurried ritual, Isakov creates his music; he covers one wall of his barn with sticky notes of musical ideas and lets them eventually come together.
This humble troubadour isn't one for theatrics. The opera-house-turned-adobe-school-building made for a perfectly quaint but classy setting. The Lobero stage was dimly lit when Isakov appeared as a whimsical, hunch-backed silhouette wearing a wide brimmed hat that strategically hid most of his face. Isakov enchanted the audience, myself included. Most of the night I sat in utter awe, grateful for the mask covering my gaping mouth.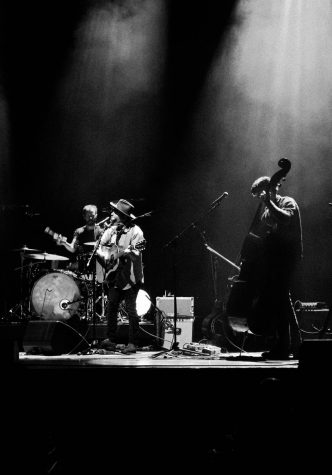 Isakov's opener was Israel Nebeker of Blind Pilot, an American indie folk band featuring hits like "Three Rounds and a Sound" and "Oviedo." Nebeker's soulful voice set the tone for the evening. Nebeker and Isakov's friendship was evident in the duet's banter during their encore performance.
Isakov's near two-hour set sampled from each of his four albums, barring his 2016 collaboration with the Colorado Symphony. Isakov opened with his poignant "Astronaut" and concluded with a cheerful medley of "All Shades of Blue," which he played standing in an intimate ring with his four accompanying musicians and Nebeker. The evening also included "She Always Takes it Black," "San Luis" and other crowd favorites. 
Isakov's accompanists were an eclectic mix of string instrument players and percussionists, although they each seemed to play multiple instruments. Isakov joked that, instead of naming the individual instruments, he simply refers to them as "God sounds." 
Newer listeners, wait till evening to peruse Isakov's "God sounds!" According to Isakov, his cosmic daydreams are best enjoyed at night. So, open Spotify and prepare yourself for a transcendent listening of what Isakov himself deems "sad songs about space."