How we talk about racism without talking about racism
Love should spur us to action.
On the one hand, my time here at Westmont has flown by; on the other, it can't seem to go by fast enough. I'm simultaneously grateful for the growth I've experienced here —  including my passion for the inextricably linked forces of social justice and the Kingdom of God — and incredibly frustrated that the institution that has housed the cultivation of my faith during this season of my life doesn't seem to be growing as I am. I admit, I'm impatient and, as any good sociologist will tell you, institutional change is slow, but we seem more than slow. It feels like we're stuck. 
I'm arguing we're stuck because we at Westmont — and at Christian predominantly white institutions (PWIs) more generally — seem to be experts at talking about racism without talking about racism. We fail to implicate ourselves into the messy story and the restorative and reparative work required in response to American slavery and its legacy. 
The first tendency we have, assuming here that racism exists or at least has existed at some point in time, is to talk about racism as a horrible thing of the past.
We shudder at the thought of slavery and say to ourselves, "Glad we're over that now." Yes, slavery was abolished with the 13th Amendment, but an important loophole—"except as a punishment for crime whereof the party shall have been duly convicted," emphasis on the "punishment for crime"—has continued to be exploited in the 156 years since it was passed by Congress.
Slavery's current shape is mass incarceration, as Ava DuVernay showed us in her informative and heart wrenching documentary, "13th." 
Yes, legal segregation ended with Brown v. Board of Education, but de facto — practiced, lived — segregation continues to this day. We're more segregated now than we were in the 90s, even though the U.S. population is more racially and ethnically diverse.
Yes, there hasn't been an officially recorded lynching since 1981, but if you've been in the U.S. at any point in your lifetime, especially the past two years, you most likely noticed that racialized police brutality is a devastatingly frequent part of our national news and the lived reality of Black people across the country.
The Opportunity Atlas is a helpful resource that visually and numerically demonstrates disparities along racial, gendered and economic lines in outcomes such as household income, incarceration rates and high school and college graduation rates in various cities across the U.S. Racism is still a very real part of today's reality in the United States. 
The second tendency we have — assuming we can agree that racism is an enduring reality — is talking about racism as if it's an atrocious phenomenon elsewhere, like in the southern U.S. or the Appalachian region, for instance, and not here.
I think back to the video shown in chapel, Beneath the Ink. While I'm grateful for the transformative work Billy White does in his community, it did leave me with questions. I know people had questions about the film itself, but mine have more to do with Westmont. Why was that particular story the one we chose to show? Does it do more harm than good to equate white supremacy with swastikas and Ku Klux Klan (KKK) artwork and nothing more? 
Can we also name the places white supremacy is embedded into the foundational frameworks of the entirety of our country, even our own college?
What about the 1968 "Horizon" article by then-Westmont student Jane McChesney '74? This article, which pulls from interviews of two Black female students and their experiences feeling isolated, alienated, and tokenized, drips with the same sentiments and grievances that have been expressed by current students of color through petitions and protests.
On what basis are we claiming that racism is "not that big of a deal" here? Is that what the white people are saying? We should be asking our students, staff and faculty of color how they feel and then actually listen.
We need data to measure how we're doing, not how hard we're trying4 — data that looks at who our connections are, who is hired, retention rates of both faculty and students, tenure rates, and reasons for leaving. We have just barely begun the process of restorative work.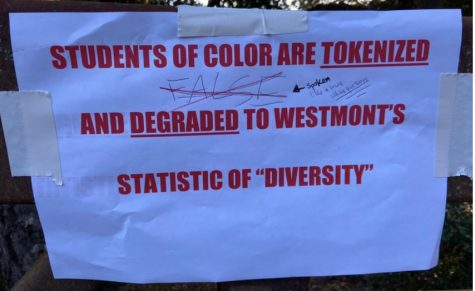 Last year, Arrabon, a partnering organization that helps communities work towards Kingdom-like reconciliation, helped us with a Campus Racial Climate Survey so we can become more aware of places of growth in order to make an action plan for our school. This step taken by the college would have been great if we had actually used it as an opportunity to listen to the students who shared the ways in which Westmont is failing them and hurting them. However, we continue to search for alternative explanations to justify their obstacles to thriving here. I'm reminded also of the chilling responses to the posters on the GLC bridge placed in protest in 2020, written in hate-filled, messy-yet-bold sharpie: "If you don't like it here, then you should leave."
These unacceptable sentiments aimed towards students of color by their fellow students bring me to the final tendency we have, which is to put up our hands in exasperation and half-hearted sorrow, saying, "Why can't we just love each other?" In response, I ask, "Why can't we?" We must ask what love requires of us and what we're striving for.
The Kingdom of God is about the work of restoration and repair, and to live into that Christian vocation of restoration, we must first acknowledge the areas in need of repair — areas of hurt and brokenness and generations of white people stealing Black and Indigenous life, power, wealth and identity. 
As residents of this place — Earth, the United States, Westmont — we are all tied up in each other's mess.
We need to recognize the systems of power and race we've been born into and will continue to perpetuate if we don't actively work against them.
We also need to stop intellectualizing people's pain. One year's worth of school-sponsored "Conversations That Matter" regarding race is not enough. Boasting our diversity numbers is not enough. It is not enough for the Westmont community — students, alumni, staff, faculty, administration, donors, board members — to talk about race without really talking about racism.
It's not enough to talk about racism without taking the necessary steps to commit to anti-racism and dismantling white supremacy. This work takes time and commitment, but that doesn't mean it's not urgent.
I plead that you believe our brothers and sisters of color when they say it's still broken, and listen in lament rather than cling to a posture of defensiveness. Be moved, as Jesus is, by others' pain (John 11:33-35). Let yourself feel the uncomfortable emotions of anger and grief because it's not supposed to be like this. Let the hope that it won't always be this way convict you, and let love spur you into action to live like that's true, even if it costs you something. Because it will. 
———
Opinions expressed in letters and other editorials, unless otherwise stated, are those of the writers and not of The Horizon staff or the college collectively.