Dr. Shasberger's final Christmas concert celebrates salvation for all
The Westmont orchestra and choir performed at the historic Granada Theatre on Dec. 4 and 5 for their annual Christmas concert, "Salvation for All."
The concert featured classic Christmas hymns like "O Come All Ye Faithful" alongside instrumental pieces like "Newborn Glimmer," an adaptation of a Swedish hymn.
The program also included an original composition called "Divinum Mysterium" by Westmont music professor Dr. Daniel Gee. 
Westmont students enjoyed the Christmas concert immensely. First-year Gray Mohon said, "The music was fantastic, worth the ticket price for sure. Seeing both Orchestra and Choir perform combined was a special experience. I will definitely attend future concerts."
Music department director Dr. Michael Shasberger, who has spearheaded Westmont's Christmas concerts for 17 years, reflected on the legacy of Westmont's annual Christmas tradition. "Each year we choose the theme sometime in the Christmas season that reflects where we think the world is or a powerful message through scripture that relates with the coming Advent season."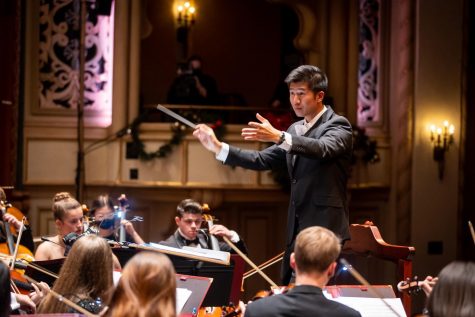 "I loved every concert we've performed and how these concerts have been experiences that speak to the audiences' and our performers' hearts. 17 years and they've all been grand and [I'm] looking forward to seeing what comes next!" continued Shasberger.
After performing at the Granada, Westmont musicians celebrated with Christmas cookies and an assortment of soups, including Mrs. Shasberger's Santa Fe Chicken Soup back on campus in Deane Chapel. Oboist Arwen Blanks said, "It was homemade, which was a nice change of pace from DC food. The orchestra-choir community is pretty tight; we each know each other to some degree and I think that helps us a lot when we play and perform together as a group."
Westmont will greatly miss Dr. Shasberger, who is retiring in May 2022 after 17 years of conducting Westmont's college choir and orchestra and teaching private voice lessons, as well as performing in and collaborating with the greater Santa Barbara community. 
Dr. Grey Brothers, who teaches music history and world music and directs the choral union, will also leave at the end of the academic year. "It's been nothing but good times with Dr. Brothers. He is just one of those people that radiate joy and naturally makes people laugh," said first-year tenor Keagan McMurray. "My favorite memory of him is probably either when he performed improv scenes during class or when we got to honor him and his noteworthy career at the Westmont Choral Festival."
First-year violinist Isaiah Underwood described Dr. Shasberger and the orchestra as "a part of my Tuesday and Thursday nights that I look forward to." Underwood said one of his favorite parts was "performing with the group and hearing Dr. Shasberger's jokes." 
Music professor Dr. Steven Hodson told the Horizon that "Westmont is in the process of hiring new faculty to fill in the positions left behind by Dr. Shasberger and Dr. Brothers. This is a difficult process, but we have already gotten a head start and hope to find hires of equal caliber. Both Brothers and Shasberger have made an impact on Westmont music and on the college as a whole."
On Saturday, Dr. Beebe announced the creation of the Michael Shasberger Music Scholarship, which will serve to continue the director's legacy in providing for future Westmont music students. President Beebe said Dr. Shasberger has "been a gift to the college, and we'll miss him." As for the audiences who enjoyed the weekend of festivities, the Westmont Christmas concert served as a reminder of that gift.