Composing connection
Composition major Jared Clarke talks writing music and living abroad
Jada Fox, Students Editor
November 13, 2019
Whether through culture or music, connection is crucial for junior composition major Jared Clarke: "When I create I really want to create something that expresses my feelings in a way that can relate to others, cause I really like that whole piece of knowing that you're not alone in whatever you feel." 
Six years before arriving at Westmont, Jared and his family moved to Rome, Italy. While Jared adjusted to life mostly in Rome and a handful of Italian villages, he and his family returned to visit relatives and friends in Florida and California. "The hardest part was learning to reacclimate every time" Jared recalls. "I've done that so many times now, that it's easier for me now to the point where it bleeds into other areas and I have to acclimate to a situation I've never been in."
While living internationally, Jared was homeschooled but knew he wanted to eventually attend high school in the United States. "High school was kind of a different animal," Jared laughs as he remembers attending Santa Barbara High School for fall semester of his senior year. "I think it's good to be able to traverse different peoples and cultures because it makes it much easier to converse with those people and understand them and learn from them, love them in quick succession."
Jared learned about Westmont while living in Santa Barbara for the semester. Even though he returned to Rome with his family for spring of his senior year, Jared applied to attend Westmont for the coming fall. The Westmont Music Department eagerly welcomed Jared as he was interested in exploring music composition and (initially) psychology. 
Jared started learning guitar at a young age and enjoyed making songs. Now, three years into his Westmont career, he writes original compositions instrumented for more than just guitar. "I feel like I found something that I was good at," Jared smiles. "That's one of the things growing up that I was super unsure about and weighed on my heart a little bit. I didn't feel like I had anything that was mine, that I was good at. I feel like I'm finding that here with music, something I can put my work into, can aspire to."
Friday evening, Jared's piece titled "O'er Yonder" — sequel to a composition titled "Wander" — was performed at the Composer's Concert. Jared describes the inspiration for his song: "O'er Yonder is about the search beyond that, rather, God. The ensemble is a flute, clarinet, violin, viola, cello, bass, organ. And the organ is really supposed to symbolize God and all the other instruments are kind of interacting with him and that's supposed to symbolize our interactions with God and the search for Him."
The source of inspiration "O'er Yonder" is not unusual for him. According to Jared, inspiration in his compositions largely originate from his faith and relationship with God: "I try to make songs on my guitar or compositions that kind of evoke empathy because I want people to think and I want people to feel. … Everything I do, I aspire to think of God and Jesus in my faith. I don't always accomplish that, but ideally everything I create has a little bit of God."
About the Writer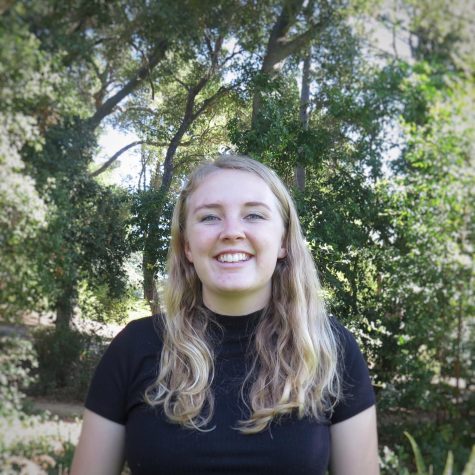 Jada Fox, Students Editor
Jada Fox is a senior English major who wanted to be an astronaut, but settled for cloud-gazing instead.