Westmont Center for Thriving Communities facilitates discussion: "What are Churches for?"
Rolls of white butcher paper lay crisscrossed on round tables in the Simmons Conference Room in the Global Leadership Center (GLC). Large post-it note boards propped up on easels stood by each table. A diverse mix of participants represented a total of 17 congregations: recent alumni seated across from old professors; first-year students still exploring church options in Santa Barbara seated next to seasoned church elders. 
In the Westmont Center for Thriving Communities' (WCTC) public deliberation "What are Churches For?", members of the church community in Santa Barbara were invited to discuss the event's titular question.
Dr. Rachel Winslow, co-director of the Center for Dialogue and Deliberation and organizer of the event, spoke of her hopes for the space created in the deliberation: "That participants could listen differently to someone with whom they disagreed, and in listening differently, could recognize the tensions or trade-offs inherent in an option that they highly value: to dwell in the complexity of no one solution and to humanize those perspectives that would be easy to ignore or dismiss."
To create the space for this kind of engagement, Winslow opened the time by framing it as "an opportunity for [participants] to hear from one another and to listen differently."
She introduced an issue guide that presented five potential answers to the question "What are churches for?": one, churches connect us to one another; two, churches make visible God's work in the world; three, churches proclaim the gospel; four, churches serve the world; five, churches connect us to Christ through time and space.
Jaron Burdick, executive assistant to the provost at Westmont, participated in the conversation as an ordained minister in the evangelical covenant church. He noted that "having gone to seminary and having pastored churches, the general topic interests me, but especially in the past two-three years — between the pandemic and Donald Trump and George Floyd — with all of that — it has really pushed forward in my mind this question: What are churches for?"
Phoebe Lu, a third-year communications major at Westmont also noted the relevance of the deliberation's central question, observing, "I hear conversations about this several times a week. People have things to say about it, especially people who are part of churches and yet noticing things about their church or other churches that need critiquing."
Lu was one of seven student facilitators from the Facilitating Dialogue communications class — each placed at their own table to help participants navigate discussion in three main ways: remaining impartial, keeping conversation going by pointing to specific questions and/or ideas, and keeping track of time.  
Her first time as a facilitator at such an event, Lu admitted, "It was intimidating to facilitate a conversation where Westmont faculty would be there — just adults in general — as opposed to some student event. The stakes felt higher, but because the stakes felt higher, I think that gave me motivation to prep well."
Equipped with advice from her communications professor Dr. Dunn, her class's textbook "Facilitator's Guide to Participatory Decision-Making" by Sam Kaner, and an appreciation for the discussion's relevancy, Lu explained, "I just felt so motivated preparing for this event … it was really, really special and purposeful to act as a facilitator about a topic that I thought was important to talk about." 
Describing the conversation at her table, Lu observed, "I thought that what was being said was really mature and insightful, and there was a lot of humility."
Lu highlighted how the event's framing — especially the connecting questions given to facilitators to close the evening — helped "everyone at your table to walk away recognizing the value of this conversation." Lu felt that this was accomplished at her table: "each of them had a stake in this conversation, each of them were affected by how their church operates, and because they all want church to … best do what it's supposed to do."
At the same time, Lu acknowledged, "the hope is that this is just the catalyzing conversation for more." She continued, saying, "after the event, so many of the people at my table were excited. They were looking forward to continuing having this conversation."
Lu also recognized that her table was "almost completely made up of white church attendees and many of them were older." She attempted to balance an understanding "that there was so much that wasn't represented here" with a continued appreciation for how what was shared "contributes to the ongoing process of sense-making that doesn't end with any conversation."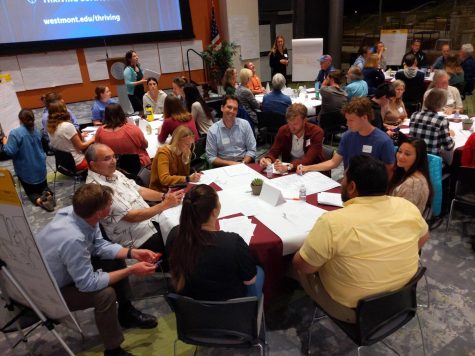 As a participant at a neighboring table, Burdick also experienced a fruitful conversation, even as he recognized, "I knew I wouldn't be walking off with some neat basket of answers." The conversation raised at his table was one Burdick has explored further with people who participated at other tables. Burdick noted his colleague and director of admissions Mike McKinniss "also has a seminary degree, so we were comparing notes." 
In addition to participants and a facilitator, each table had a notetaker who recorded the group's contributions on the post-it note boards for everyone to see. Winslow introduced notetakers as volunteers working "to make visible the words that you say and the emotions that you're experiencing and things that you are holding valuable … to try to capture the space at which you find shared understanding and the space at which it's kind of hard to agree … to prioritize transparency and visibility."
Chris Hoeckley, director of the Gaede Institute, volunteered to be a notetaker for the evening. Hoeckley exclaimed, "the great thing about being a notetaker is you're not thinking, 'What should I say next?' while people are talking … and I had to focus because I was supposed to write on the board, so it was a great exercise in … strengthening my listening skills a little bit."
As pages of post-its filled with thoughts from each table, the notetakers tore them from their easels and stuck them around the GLC. By the end of the evening, the walls were covered in questions, ideas, and insights — to be collected and used by the Westmont Center for Thriving Communities.
Dr. Aaron Sizer, director of WCTC, helped close the time by explaining the broader context into which this one deliberation falls. According to Sizer, WCTC is "the program that gathers churches around conversation that we think are important."
Over the course of a year, a cohort of congregations will explore the importance of context, values, conflict and practices. According to Sizer, the final deliberation on church practices asks "how do we translate any of these things that we've been talking about — context, values and conflict — into actual things that the church can do that are authentically connected to a particular congregation?"
Thus, the public deliberation "What are Churches for?" not only offered a stimulating conversation for participants, but also served as an opportunity to listen and learn for both individuals and larger congregations.