Severe flooding delays the start of spring semester
Westmont designated "Shelter in Place" location
Students flocking to chapel on the first day of the spring semester were drenched by intense rainfall — a product of one of the largest rainstorms to hit Santa Barbara this winter. On Monday, Jan. 9 Montecito saw nearly 10 inches of rainfall, making it a high-risk area for flash flooding and mudslides.
After a town-wide evacuation that same day, Westmont was deemed safe by both the Sheriff's office and the fire department as a shelter-in-place location for students and faculty. Classes were canceled Monday afternoon through Tuesday to limit potentially dangerous travel. The Jan. 9 storm follows devastating rainfall and flooding across the state of California this winter. 
Aside from the typical chaos brought about by Southern California rain, students were baffled by conflicting messages received during the day. At 11 a.m. The Westmont community received an email from Director of Institutional Resilience, Jason Tavarez, stating that our campus is a safe zone and classes will continue as usual.
Despite this announcement, cell phones began to sound off with an emergency flash flooding alert for the area. The warning advised everyone in the area not to travel, and a later message reported that everyone in the Montecito area should evacuate. Though it had already been announced that Westmont was a Shelter in Place location, Westmont students remained unsure about whether or not they were safe remaining on campus.
Amidst the confusion, some students took it upon themselves to leave campus. Third-year Madison Huntington fled campus shortly after the mass evacuation order was sent out and stayed in a hotel in downtown Santa Barbara for two nights. She remarked, "after getting a flash flood warning during chapel and seeing the conditions intensify throughout the morning, I was already on edge by the time the evacuation order reached my phone."
She continued, "I was so confused and thought maybe I should stay, but [I also] felt that I should listen to the officials who sent out an evacuation order for 'all." There was nearly an hour between when the evacuation order was sent out and when Westmont officially reiterated that students were safe to remain on campus.
Tavarez explained that during that hour, he was working to confirm with multiple external agencies that Westmont was still a designated shelter in place. "The reason there was a delay in communication from that message to when I finally sent out my message was because I was contacting the Office of Emergency Management to make sure that they were comfortable with our plan as presently constructed." Tavarez further elaborated, sharing that he also had to seek confirmation from both the Santa Barbara County Sheriff's Department and the Montecito Fire Department before making the official call.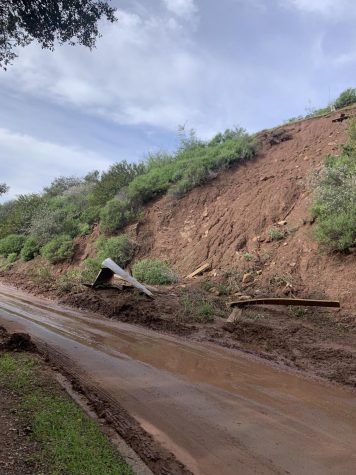 For longtime Montecito residents and Westmont staff, the storm evoked memories of the deadly mudslides that took place five years prior and killed 23 people. The 2018 mudslides, which succeeded the Thomas Fire of December 2017, left in its wake a massive burn scar area capable of causing large debris flows. The Thomas Fire burn scar area has not fully recovered yet, making this year's storm a precarious case.
Tavarez recalled the event, saying, "the Thomas Fire burned up all the vegetation, took out all the things that were holding the mountain together and then you had the gigantic rains that pushed everything down." He added that even more so because of the Thomas Fire event, this year's storm was "on our radar, we were preparing for it and we knew that in a large weather event we were most likely not going to have to leave campus."