Mercy Milliken pursues experiences outside her comfort zones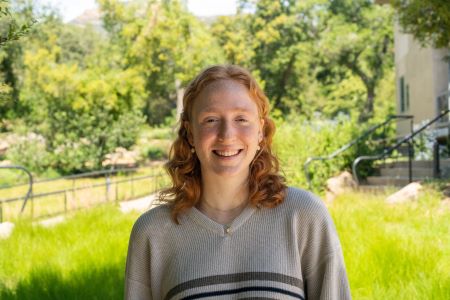 As a fourth-year pre-med kinesiology and Spanish double major born and raised in South Korea, Mercy Milliken breaks conventional bounds on and off Westmont's campus. 
Milliken lived in South Korea until she was 15 years old. Before her sophomore year of high school, her family moved to Nebraska. After a few moves to and from the states, her parents currently reside in South Korea today. She explains that living abroad has been "isolating at times, but I've also grown and become independent in a lot of ways."
When thinking about college, Milliken was eager to "encounter a more diverse population than [she was] interacting with in Nebraska," and California caught her eye. She heard about Westmont from her sister and an alumni, so she decided to attend. 
Coming into Westmont, Milliken's major was undecided. To help aid her decision process, she selected several random electives. Human anatomy specifically attracted her. She explains that she  "always loved STEM classes and kinesiology is broad in that it approached the human body in different ways." She pursued a pre-med track to open doors for health care and potentially med school as well. 
On top of her intense STEM curriculum, Milliken is a Spanish major too. In South Korea, Milliken studied Spanish. She accumulated profound progress that she wanted to maintain in college, which inspired her double major.
Despite coming in with uncertainties, Milliken's unfaltering goal was to study abroad. After a series of COVID-19 delays, Milliken studied abroad in Mexico this past fall where she was able to utilize her language education in a Spanish speaking country. 
Milliken states that "it was perfect timing to be able to apply the lessons from Westmont," and she is happy that she persisted through the obstacles. She concludes that Mexico was "more than I'd hoped for." 
Now back in Santa Barbara, Milliken is an intern for Kingdom Causes Inc., whose task force is "involved in trying to coordinate medical services in Santa Barbara to educate about human trafficking and create a continuum of care." 
Milliken also works with Immigrant Hope, "an organization that provides different resources, like civic classes and driver's education for Spanish speaking immigrants." In both of these organizations, Milliken continues to apply her education to serve her community. 
After four years of learning at Westmont, she's become heavily involved in valuing health care equity. Milliken hopes to stay involved in those organizations after graduating from Westmont to fuel her passion. Though the workload was difficult at times, Milliken is grateful she continues to step out of her comfort zones. As an almost graduate, she says, "that has been challenging and valuable to learn."