Song, dance and a yo-yo master: Spring Sing 2023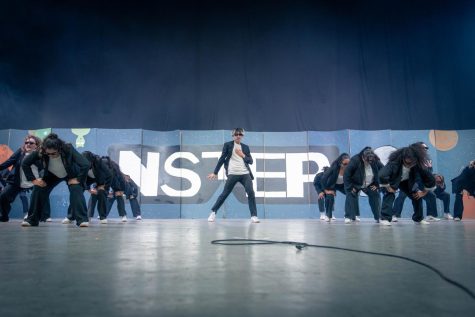 On April 1, enthusiastic attendees filled the many seats of the Santa Barbara Bowl in anticipation of what would prove to be a uniquely Westmont style evening of musical parody, skits and creative fun. Students, faculty and staff who had volunteered their efforts toward months of careful preparations waited excitedly for the official opening of the gates. After much planning and an annual trek up the steep incline of the venue, it was no surprise to see the most eager students move swiftly into the student section the second the gates to the stadium opened. Soon after, all interested in observing this year's Spring Sing, including members of both the Westmont and greater Santa Barbara communities, entered the stadium ready for the performance. 
The show began with the introduction of the emcees and proceeded with a program of interwoven main skits and side-acts. Presented by the dorm halls, one per hall, each main skit featured students from a specific residence only, following Spring Sing tradition. Page, Clark, Emerson, Armington, VK, GLC and Ocean View/Off Campus presented their skits with spirit and competed for the coveted title of "best skit."
This year, Ocean View/Off Campus won with their rendition of chapel mixed with a little bit of time travel. Still, this designation was a close call according to an audience poll of clapping and shout-outs. It appeared each dorm had an abundance of fans in attendance. 
Led by directors, each dorm skit brought its own character to the show as a whole. Armington director Leah Schaad emphasized how participating in Spring Sing builds community. "My favorite part of Spring Sing is getting to spend time with people that I would've never become friends with if it weren't for the show. Working together towards a common goal really brings a community together and allows you to see peoples' strengths play out in very tangible ways." Regarding the process of creating and leading a skit, Schaad is "so proud of each and every one" of the performers she directed and that her "favorite part of the actual show was, of course, Armington's skit." 
Side-acts also led to much applause. This year's line up was as varied as it was entertaining. A flurry of guitars, brilliant lyricism and charisma characterized the musical side-acts. Diverse technical skills were also showcased, including moves presented by Westmont N-STEP dance troupe and yo-yoing. Drake Bogataj, recipient of this year's "Best Side-Act award," created brilliant suspense as walked onstage by himself with just a yo-yo in hand, and then proceeded to produce some of the highest levels of applause heard all night.
With a momentum building backtrack of EDM music and advanced tricks, Bogataj's impressive skills were a major highlight of the show. Reflecting on his yo-yoing experience, Bogataj offered, "I have been yo-yoing for a bit over six years and I'm sponsored by the brand Yoyofriends." When asked about what it was like to perform as a part of Spring Sing, he added, "I've been to a bunch of contests and made finals a couple times, but Spring Sing was by far the loudest a crowd has been which was super sick. I was really happy that everyone enjoyed the performance so much and that I won best side act." 
President of "Hermonics" women's acapella group (formerly known as "Women of Westmont" a.k.a. WOW), Katie Ticas, also provided some behind-the-scenes insight into what it was like producing and performing a Spring Sing side act. She said, "I feel so blessed to have had the chance to lead the club this year, continuing to build friendships with some incredible singers while challenging ourselves and building our musicianship." Ticas also mentioned, "I'm so grateful for everyone who's shown support, especially for our rebrand, which I think has been a great move post-COVID-19 as a lot of clubs were struggling to get back in the know on campus." 
Overall, the typical character of Spring Sing was alive and well this year, with abundant inside jokes easily recognizable by the typical Westmont student and professor participation in the show sprinkled throughout. Of course, no article regarding this year's Spring Sing would be complete without a mention of the costumes. These featured styles worn by students ranging from colorful 80's athletic wear and squirrel attire to a cardboard cut-out of a Subaru, tear off sweatpants, a Veruca Salt inspired giant kumquat and togas. A night of laughter, wit, wordplay and free flowing creativity, Spring Sing 2023 was certainly one to remember.