Santa Barbara residents flock to snow-covered hills after winter storm
A torrential storm swept through Santa Barbara on Feb. 21-26, culminating in a blanket of snow atop the city's bordering mountains. This rare event lured residents into the hills to frolic in the frost.
Early in the week the county braced for the worst, with the Santa Barbara Office of Emergency Management warning of "winter weather conditions" and some power outages throughout the county. Westmont Director of Institutional Resilience Jason Tavarez advised students on Feb. 24 to "stay safe and dry … be careful driving and … remember that our campus is the safest place to be during these types of storms."
However, for many Westmont students and Santa Barbara inhabitants, the promise of experiencing snow outweighed other concerns. Artemisia Ashe, a fourth-year student, fled to the hills on Sunday morning to hike in the powder. She commented, "I definitely did go [hiking] to see the snow. It was really fun walking around and seeing such a different environment." While Ashe recalls seeing hail in Santa Barbara in March of 2021, this week's precipitation was unprecedented. "I actually have seen snow before in the SB mountains, but nothing like this!"
Fourth-year Matt Loke also partook in the fun. "I drove up there Saturday night," he commented. "I think it's a once in a college experience to get snow in SB, so a lot of students ended up going up to check it out." According to third year Molly Rapske, who made the trek on Saturday afternoon, "It seemed like everyone was shocked at what was going on. It was really cool. People didn't know how to handle the snow."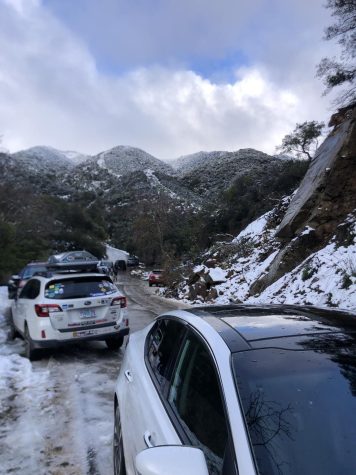 Road closures did not halt the influx of traffic to the hills. Gibraltar Road, which has been closed to the public since Jan. 9 due to flooding, still attracted a stream of cars. Loke recalled seeing policemen guarding the spot of the closure.
Despite breaking county rules, this event brought the Santa Barbara community together in unexpected ways. Ashe relayed how she "loved  the community that was built when cars were stuck [in the snow]. People started collaborating and helping each other out." Even seasoned snow-goers came out to play. According to Ashe, "There were snowboarders and so many people heading up the mountain to go check out the snow. It was like the whole SB community came out of hiding."
While it may be years before the city experiences another snow day, rest assured that Santa Barbarans will rise to the occasion.